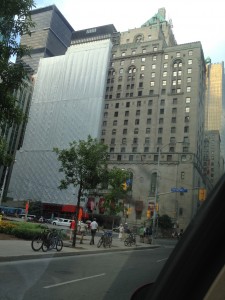 There are a lot of choices for luxury hotels, and when checking reviews, you will find a consistent pattern of the great reviews placed first. We recommend looking at the "bad" reviews first – to see if there is a consistent pattern to the review.
We had a trip planned to Toronto, one of the great North American cities, and looked forward to finding the perfect hotel for our stay. The Fairmont Royal Oak, has a stunning lobby, located in a perfect part of Toronto, and yet was ranked only 49 of the 117 hotels in Toronto, a low place on Trip Advisor.  A quick check of the negative reviews reveal why.
Consistent reviews about small rooms, windows covered, construction noise, and poor service from the valet staff. The last review was from someone who "We book about 30 special events a year at high end resorts around North America and was reminded why we don't use Fairmont properties. Terrible value for the money? Lesson learned. We will stick with Four Seasons! They know what they are doing!"
There were consistent issues with showers, stained carpets, noise, dated areas, and consistent reviews from the "management" apologizing. We have noted that when management apologizes they often say, "come back and try us again," or might even "comp" a room.  What management does not realize is this: most of us won't come back to a hotel that has not met expectations. Many do not write reviews, and of the reviews that are written the negative reviews are seen by the most individuals (our negative review of the Beverly Hilton was seen by over 26,000 people on Trip Advisor ).  Get it right the first time.
Here is the problem- for most of us staying in a luxury hotel means it is an "experience" it means we want things to go perfectly.  We can tolerate some issues- but consistent issues that are never taken care of are not something people do well with. Nor when a hotel responds in public, and they lie is that acceptable(as one hotel did telling us that their room did have plenty of power outlets – the 9's in Portland) – Here is what the hotel can do:
Rooms that have construction tape, with blocked views should be rotated out of the schedule or offered for a price that is far less than any other room (say $50 a night- that means the room is occupied and people know what they are getting and the hotel is still getting a value).  Contrast this with Four Seasons, whose hotel is closed because of construction—they don't compromise the experience of their guest.
We have noted that Fairmont has historic properties, but spotty service, and declining upkeep. The Seattle icon The  Olympic has declined since the Four Seasons management left that hotel and Fairmont took over.  Fairmont San Francisco, also an iconic hotel, but better service.
Bottom Line:  read the bad reviews first.  Determine if the bad reviews have a consistent pattern or if it is a temporary breakdown. It is always good when management responds to issues – but if they continue to make apologies for the same issues, then there is an issue with the hotel.
So we didn't stay at the Fairmont Royal Oak – the lobby is nice, so we recommend anyone stop in for one of their famous cocktails, or even get a drink made from some honey that comes from their rooftop bee hives. But when it comes to rooms we have basics as   clean, modern (meaning outlets for ipads and iphones by the nightstand), robes, and a lot of room.  Then luxury is defined as what they do with consistency and how they handle small issues.  Luxury is attitude, that starts from the top- if you want to see how it works, try any Four Seasons Hotel.
Just as a note- the Four Seasons Hotel will re-open on October 5th, 2012 in Toronto. They didn't stay open during the construction, renovation, and moving period- something they wouldn't think of putting their guests through.  Perhaps Fairmont should examine their policies.
Comments