The Simpson's are a traveling family- and we travel a lot.  Having our son, JJ, in 2010 didn't slow us down one bit. At one year old, little JJ had racked up more than 40,000 air miles (mostly in the lap of his mom or dad).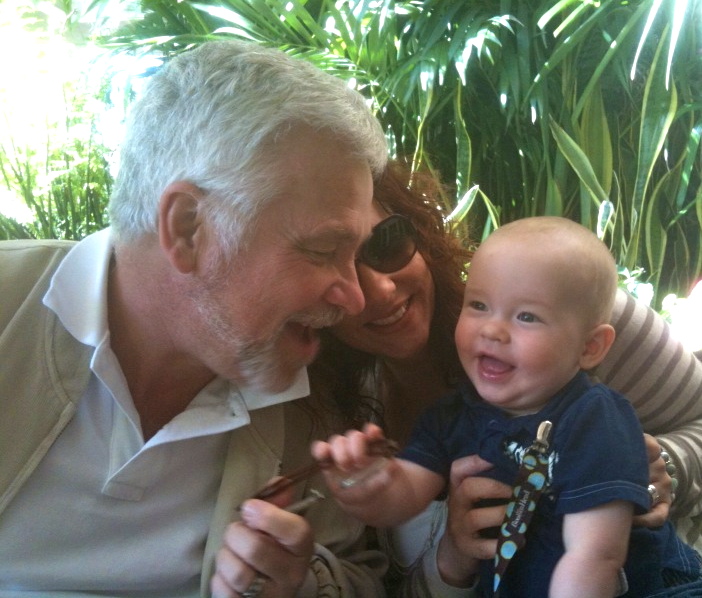 We are:
April Simpson, an executive producer of several syndicated television shows, once known  as the X-girl (an extreme sports reporter and adventurer). Not only is April an adoring mother, she is an expert packer and traveler, and there isn't anywhere she won't go with little JJ in tow.
Terry Simpson
,  a surgeon, author, and TV personality who writes about food, healthy living, and has a new cookbook coming out.  A true food aficionado, Terry loves to cook but is described as a professional eater, not a professional chef. Before meeting his wife he spent 30 years traveling the world, eating everything (but not bear or penguins).
JJ Simpson , the cutest little boy on the planet, is the youngest of the team. JJ is growing up to see  a lot of the world, and he is living proof that  traveling with an infant is easy with a little bit of planning, and this little guy makes the whole world a much more fun place.  By the age of 2 years JJ had been to three continents, with over 110,000 miles (he hasn't eaten penguins yet either).
So here is what we will be sharing:
Eat – every place has unique cuisine, with great food, sometimes great wine,  we will bring you to some of the finest places to eat (and they don't cost you an arm and a leg).
Pack – what you want to know about how to pack, how to stay connected on the internet (without costing you a fortune), what you need to bring for your child. Ever wonder what to pack for your child, for you, what medicines to bring? We have the answers.
Go – places we love to travel to- and sometimes places you will miss because they don't have the big commercials behind them. Terry was Chairman of a Board of a corporation that had hotels such as a Ritz Carleton, Hyatt Regency, Westin, and owned several tour companies. As an executive producer April spent much of her time in some of the greatest hotels interviewing stars and fellow producers. "The difference between four star and five star isn't the decoration, it is the service."
No place is too tough to travel with our son, there is not a cuisine we won't eat, and there is not an adventure we won't try. At least once.
Want more? Contact Us…