Prince William Sound is known for glaciers, sea otters, bears, and all of this is seen on the tours of the area that are a day trip from Anchorage. This is the place made famous by the Exxon Valdez, where an unfortunate oil spill nearly destroyed the ecosystem- but it is coming back.
Prince William Sound is the north end of the Gulf of Alaska (the most northern part of the Pacific). The sound is protected from the rugged Pacific by barrier islands, which means being on calm waters.
This part of Alaska is known for its fjords with lots of tidewater glaciers, lots of marine wildlife (seals, sea otters, whales) and plenty of eagles, and bear – safely viewed from the ships.
There are a couple of tour companies that operate out of Whittier but Prince William Sound Tours is owned and operated by Alaskans, who know this region better than anyone else. Unlike most tour companies, Prince William Sound Tours has not made agreements with the major cruise ship corporations- so you have to go out of your way to find them. Once you do, you will have the most experienced and awarded crew in Alaska.
Glaciers abound in Prince William Sound. And when you think you would get tired of seeing a glacier – you won't. These rivers of ice flowing from the ice fields in the mountains are thousands of years old- the ice as it goes into Prince William Sound replenishes the sea from snow that fell before Europeans landed in North America.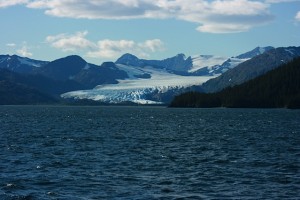 Tidewater glaciers are those that terminate in the sea. As they advance into the ocean large chunks of ice break off, forming icebergs.  On the tour you will come up on the calm waters on a number of these glaciers to see and hear the "calving."  Sounding like a shot – with echos throughout the sound- you can see the formation of ice bergs larger than most cruise ships or flows that crack off and can block the channel to the sea, forming a lake.
The glaciers are ever changing- as these giant rivers of ice flow from their ice fields in the mountains into Prince William Sound. Your view of these glaciers is unique – never to be seen again.  Where else where  you see fjords in North America where the mountains rise a mile up from the ocean, with the slow moving river of ice as ancient as you could imagine, moving slowly back to the sea.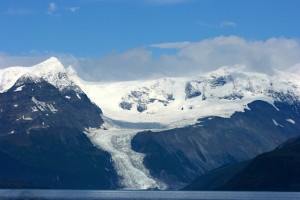 You will see glaciers, that form the most perfect art work – temporary, for your individual viewing pleasure only – or perhaps for your camera also. Something unique- unlike hotel art, or a reproduction. This is for your camera only- to be shared with, and never to be duplicated in the history of man or the future of man.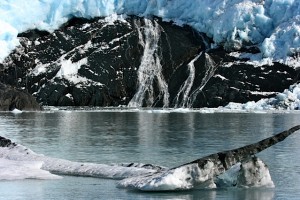 There are many package deals out of Anchorage for these tours – and they combine with other great deals.  So don't hesitate to think that you are going to get ripped off – because every package that Prince William Sound has, from the train ride, to the free ticket for the Heritage Museum in Anchorage, is something you will want to see.
While the cruise ships that go through Southeast Alaska will go to Glacier National Park, or to Hubbard Glacier- this tour is not to be missed. Never assume it is just another glacier- it is an ecosystem- a place where the seals, the sea otters, and the whales have made home- a protected water way – unique fjords, unlike anything you will find anywhere in the world– and all can be seen in a seven hour boat tour out of Whittier, Alaska.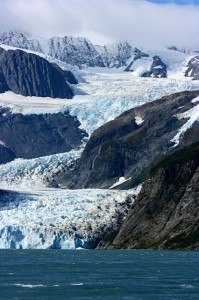 The ships are easy to take your infant, toddler, or any child with.  They will serve you a great lunch on board, and this is the place to bring that fancy camera with all the lenses you can carry.
Comments