Just a block west of downtown Anchorage are the mud flats leading to Knick Arm, a part of the Cook Inlet – where urban legend has it that a woman became stuck and a helicopter came to pull her out and ripped her body in half. It isn't true, of course- but when you go to Anchorage and ask about the mud flats someone is going to repeat that story to you.
The mudflats of Cook Inlet, Knick Arm and Turnagain arm – are glacier silt – remains of glaciers that rubbed against rock creating silt that is quite deep. Part of Anchorage is built on that glacier silt – and the Good Friday earthquake of 1964 (9.4 on the Richter scale lasting 4 minutes) – did a great deal more damage because of the house built on sand.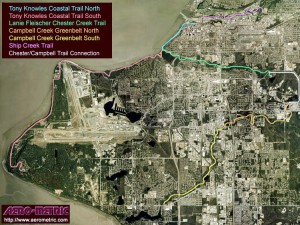 The mudflats are dangerous. Like quicksand (in fact they are exactly like quicksand) people have found themselves one minute walking on solid ground and the next being mired in the mud. The tide in this area comes in 30 to 40 feet, and rapidly – and people can drown. The last person that died in this manner was in 1988. Very sad.
But the mudflats are beautiful also – serving as a wild life refuge for many species of birds – providing warm tidal pools in the winter months.
All along the coast of Anchorage are trails where people can walk, roller blade, wheelchair, cross-country ski, or bike.  In our case, they are a perfect place to take our son in a stroller, or in a bike rickshaw – to get him out and see the city. And from these trails you can see the flats when the tide is our- or the water as it comes in. There are four trails – the Tony Knowles Coastal Trail, along which the Alaska Railroad, the Lanie Fleischer Chester Creek Trail, the Campbell Creek Greenbelt, and the Ship Creek Trail. You can see more from their website http://www.trailsofanchorage.com/introduction.htm
So when you stay downtown- don't hesitate to go to 5th and L street and rent a bike and ride along the trail. If you bring your dog, they are welcome to walk along the trail also. It is a beautiful part of nature- and a reminder of what the earthquake can do.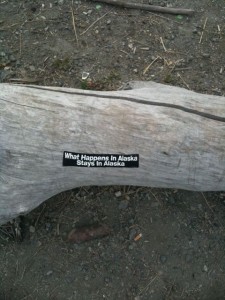 Comments