Ketchikan hasn't changed much since I left for college in 1974 – still a small town, much smaller than I remembered. But then again, growing up in Ketchikan, this was my whole world – and when it is your whole world it seems so much larger. I had been back to Ketchikan almost 25  years since I last left – and the city was remarkable for being one of the smallest places on earth.
Ketchikan is the first city you come to if you cruise to Alaska. A little over 670 air miles north of Seattle, On an island, the only way to get to Ketchikan is by plane or boat. You won't see Eskimos here, you won't see tundra or permafrost, what you will find is a small community that started as an Alaska Native fishing village (Tlingits), the first Europeans were Spanish (the island Ketchikan is called Revillagigedo after the Spanish Vice-Roy). The Spanish did nothing more with it than name it and claim it for Spain.  It never was under the Russian Influence, like the Alaskan cities of Sitka or Wrangell to the North.  In 1883 (after Alaska had been purchased from Russia) a man named Snow put a fish saltery in by Ketchikan Creek, and later more people came to build canneries. Ketchikan had a small growth with the gold rush, – and other mining activity in the area. Even on the property I grew up on was a small mine.  Ketchikan became an important stop for the miners going further north – and a rest stop for the bordellos and bars of "Creek Street."  Ketchikan later became a timber and pulp center for many years.  There is no gold to speak of now, less commercial fishing but more sport fishing, and the pulp mill closed years ago.  The new gold is tourism.
The city itself is described as being one block wide and three miles long. Growing up here most of the streets were built on pilings over the ocean, or on pilings into the side of the hillsides – those wooden streets have all been replaced with asphalt and concrete. Driving down those wooden streets your car would have a distinct thump-thump-thump. Then everything seemed smooth when the asphalt arrived.
In the center of town is Ketchikan Creek – a place that at one time was so clogged when the salmon ran that people said you could walk across the creek. As with most Alaska, where there are a lot of fishermen, there are people who will service them. Creek Street was known as the place "where salmon and men go to spawn." Today Creek Street has small museums of the "cat houses" the most famous being "Dolly's" the madam of Ketchikan. I knew Dolly- she was in her 80's  and as a "stock boy" for the local drug store (Race Downtown Drug- it is still there), I would deliver her medications to her, and she always gave me a dollar for a tip. I had no idea she was a famous former madam. The cat houses were closed down in the early 1960's – and the down side of that was Dolly was a great supporter of the local arts- supplying the music department of the high school with instruments, uniforms, and donating money for the local theater. Today, tourists will see replicas of her house on Creek Street. When I grew up the favorite statement from the religious community was that there were more bars in Ketchikan than churches (that was true) and that fishermen spent more of their money on bordellos and liquor than anything else (probably also true – but I always liked those fishermen).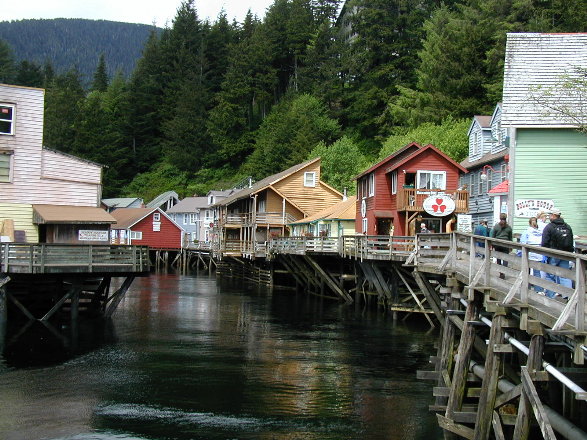 Ketchikan is  the salmon capital of the world, and if you are served troll-caught salmon in a restaurant, chances are it came from Ketchikan.  When I would come home from college in the 1970's my dad and I would go to a creek south of town, and in two hours have caught our limit of salmon (then it was six salmon per person). In Chicago, I was always amazed that people would go out for an entire day on Lake Michigan to fish for salmon and not catch a single thing. I guess that is the difference between "catching" and "fishing." There are plenty of lodges around Ketchikan that will take you  fishing, where you will be certain to catch your limit and they will clean and pack the salmon for you. The current limit is two salmon.  If you arrive on a tour ship, someone will no doubt have a salmon bake (if it is salmon season) – DO THIS. There is NOTHING like fresh salmon in Alaska – nothing- having tried salmon in every major city in the US, it is not the same (even if you don't think you like salmon, give this one a try).
You get tired of salmon, after eating it three days a week in the summer. But when you go to the lower 48 it isn't long until you want it again. In Los Angeles my friend brought me to "the finest seafood restaurant" in LA (still is in many circles). I ordered the salmon – first asking the waiter- "when was the salmon caught." He didn't know- but haughtily told me "it is fresh, and the finest salmon in LA."  When it came to the table the smell was overpowering. Since salmon is oily it can become rancid quickly. Fresh salmon is the best thing on earth- but rancid salmon isn't worth feeding to your pet. Simply put- when you go to Alaska – get fresh salmon, even if you didn't think you liked it in the lower 48 try it here.
Fishing attracted a large immigrant population of Norwegian fishermen that made the city its home. Norwegian was spoken on the streets and "Sons of Norway" was one of the popular social clubs. My mother, the daughter of Norwegian immigrants, had relatives in the city who knew her parents "from the old country." Those old fishermen are mostly gone now, but the children of the Iverson's, Petersens, Ludwigsens  are still there.
Most tourists see the large collection of totem poles- in fact, it is the largest collection of totem poles in the world. They are on the North and South end of the city. To the south end is the village of Saxman, where they have renewed the art of carving totem poles and made quite a business out of it. On the north end of town is "Totem Bite" where you will see replicas of totems that were built by the CCC program under President Roosevelt. The original totem poles were left to nature and rotting, and in the early 1970's we organized an effort to save them, and you will now see them in the local museum in Ketchikan. The totem poles – on both ends of town- are worth seeing.
Where to eat? I was happy to find that one of my local favorites, Kay's Kitchen, located off of the marina called Bar Harbor, was still in business. Kay sold the business, but apparently would not give her recipe for her peanut butter pie. The new owners, with a keen palate, have replicated it. When Kay stops in, they told me, she always asks for it, and they always tell her they are out. Kay's Kitchen serves fresh sandwiches, and the world's best peanut butter pie.
Ketchikan is one of the most beautiful cities in the world. It is protected from the Pacific Ocean by other islands, so no tsunamis. During the 1964 good Friday earthquake in Anchorage – 9.4 on the Richter scale – Ketchikan only had a one foot tidal increase. The mountains rise to 3000 feet from sea level, and are green.
The reason things are so green is that it rains a lot here. When I grew up we had 43 inches of rain one October (contrast that with Seattle that has an annual rainfall of 39 inches). Most years growing up the rainfall would exceed 180 inches in a year, and occasionally going above 200 inches. Going to school, many days it would rain sideways. The climate of the city is moderate – only once did I ever see it go below zero in the winter. We called Ketchikan a tropical rain forest without the heat. But every summer we would get two great weeks of sunshine – so if you go, plan on it raining, but if you want a shot at sunshine plan on late July to August. But winter in Ketchikan is beautiful.
While the cruise ships will do a good job of tours in this small, but beautiful city. One of the few things that have changed since I grew up was the old Alaska Steamship dock (where our food and durable goods would come in on ship) has been lengthened and now there are scores of shops selling tourists trinkets. Find a shop that is owned locally- and support the local economy.
Many go to Southeast Alaska by cruise ship. There is a less expensive way – the Alaska Marine Highway system has ferries that leave out of Bellingham, Washington (just north of Seattle) and take the same routes. The downside of the state system is you have to buy a cabin, or sleep on the deck, and most of the food is cafeteria style.  The cabins are "bunk" style – but if you don't mind roughing it, they will be clean and comfortable. If you don't care about the cruise ships gambling, fancy food, and have a family that you want to take to Alaska on a budget- this is the way to do it. Plus, you can stop off in a town for a few days and catch another ferry to another city. Be certain to book ahead of time- and get the state rooms. You will find this is a much less expensive way to see Southeast Alaska, and these ships are "eco-friendly" to the environment.
Ketchikan – my hometown- -I was impressed by how small it really is.  The pulp mill where most of the city residents were employed is gone. The salmon are not as abundant, but the streets are paved, and Norwegian isn't spoken on the streets. But the Totems are being made again; the native culture is alive and pride has come into the community. The first totem erected since the CCC operations of the 1940's is below- today there is a thriving carving community.
Not far from Ketchikan is Mysty Fjords National Monument – worth taking the tour- if you have the time.
Things to see are pretty simple– see the Totem's – on both sides of town; see Creek Street and its replicas – and go to the museum in Ketchikan – they have some of the original Tlingit Totem poles that yours truly was responsible for saving many years ago.
In Saxman you will see totem poles carved by Native Americans. There are 25 of them, each with a unique story- and this is the only place in the world you will see these. Consider each carving as a piece of art more rare than Monet, Renoir, or Van Gough. These totems are a priceless collection of art in addition to being a bit of the history of the maritime people. Today that tradition has been revived, mostly through the efforts of Nathan Jackson.  You see in the photos the first totem pole that was raised in Ketchikan since the 1940's – this was raised in the early 1970's.  They might charge you a few dollars to see these totems- but it will be less than any museum – and what you see here has not been seen by many people.
But the gold is in the beauty of the city- the mountains, the inland water ways – something as a boy I could look out our living room windows and see Orcas following the salmon in. There are still some great hiking trails – and if you have time- climb Deer Mountain- you will have a great view of the city.
Ketchikan was a wonderful city to grow up in – and when you visit there imagine this city from the 1880's and moving into this century. This tiny island- home of the greatest salmon fishing, isolated from the rest of the US, and with great beauty – where people created some of the greatest art on the planet.  I never tire of returning here
Comments