Cabo is at the tip of the Baja Peninsula, where the Sea of Cortez meets the Pacific Ocean.  While it was once the exclusive playground of fishermen like Hemmingway, Zane Grey, Bing Crosby, and The Duke (who built the first hotel), it is now built up with time-shares and restaurants, and has become known as South San Diego.
Safety is not a concern here, having six military checkpoints from Tijuana to Cabo there is no chance that a drug lord will try to claim their spot here. The highway was complete in 1974, providing a pleasant three-day journey down the Baja. Prior to that it was at best a rutted dirt road, so tough that it was considered "off-road" and was the basis for the first Baja 1000 car race.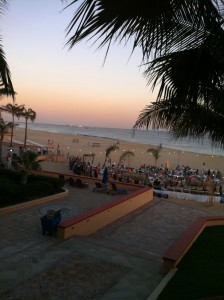 The view from our room
One of the advantages of Cabo from Phoenix is that you can leave Phoenix in the morning, have a 2-hour flight, and be on the beach by the afternoon, well before happy hour.  We stayed with friends at the Playa Grande Resort – that sits on the Pacific Ocean side.  Bringing a car seat for our son, we decided on private transportation from the airport to the resort, instead of the cab. This gave us time to secure the car seat, and the driver was not at all impatient. One thing my wife noticed here, the people in Cabo all love babies – our son was the hit of the vacation.
I'd stayed at Playa Grande before, built next door to The Duke's hotel, the first one in the area, now being torn down to make room for the new, elegant Grand Solmar. The friendly staff whisked us to our room , where in spite of having every cell carrier with international data plans, could get a signal only on alternate hours for a few seconds.  No matter, Cabo is not for checking Facebook, it is for checking out.
Suspicious of sushi in land-locked Phoenix, and probably all sushi, my host convinced me to try the restaurant Nick Sans.  The the sushi is served from the sea to your table with less than a few hours between. Don't pay attention to the menu, ask the waiter to have them feed you.  They might ask how spicy you want things, but after that, sit back and prepare for some of the finest food you could imagine.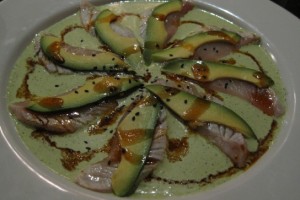 Executive Chef Angel Carbejal did not do us wrong with the fusion of Japanese cuisine with local flavors and Mexican ingredients. Minimalist in design, Maximalist in flavor, the only word to describe their food is "visionary." Don't miss the Yellowtail Sashimi that has curry oil, ponzu sauce, with some green tea sea solt. The Tempura lobster rollo with avocado, cilantro and wrapped in say bean paper with garlic curry sauce provides a balance of savory with sweet, a touch of bitter and an insatiable desire to go beyond the boundary of the stomach for more.
But can you get Italian food there? Salvatore's Italian Restaurant is a small – in a courtyard flanked by a small hotel, – so you need a reservation. The signature lasagna is among the finest I've tasted in North America. They still take pride in preparing fish you have caught in Cabo, so the dorado won't have to be shipped home.  The portions are not small, in fact they are more than generous. So while some may tire of fish, fish tacos,  it is nice to have some great bread with balsamic vinegar followed by a meal that would transport  you to Little Italy.
Counterfeit Cuban cigars are the worst crime you will run into,  but not if you go to Hemingway's.  Just up from the famous (and over touristy) Cabo Wabo, Hemingway's is a quiet place with a fine selection of Cuban cigars and Tequila.  Perhaps the place to take your laptop so you can quietly go through emails while smoking a Cohiba and sipping an Anejo- you can relax and enjoy a pleasure not found in the United States.  They are the exclusive dealer for Cuban Cigars in the Baja  and supply the hotels with the cigars (under J and J brand). Do not buy a Cuban cigar from a street vendor- as you will have a better chance of getting a genuine Presidential Rolex for $100 than a real Cuban cigar.
But what is vacation if not for sitting in the sun, relaxing with my son and wife- and letting the staff of Playa Grande provide music, drinks, snacks, and anything one might need for a relaxing time.
We enjoyed it so much that we purchased a time-share on the grounds that was once The Duke's hotel. Why not? Where else can you enjoy fresh fish, fine cigars, great golf, and play with your son in a safe place?
Comments