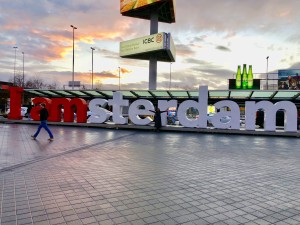 Arriving at Amsterdam airport is a pleasure. There are airports to avoid in Europe, Healthrow in London and Charles De Gaulle outside Paris. But this airport reminds one of a cross between the modern airports of Scandinavia and the efficiency of Frankfort.
It is a "hub" for Delta, a partner of KLM – which means it is an easy and  flight from Salt Lake City, Seattle, San Francisco, and LAX. It also means a pretty easy flight from almost anywhere on the East Coast from Toronto to Atlanta.
Winter is a great time to travel to Amsterdam – not too many tourists, so getting through any security is fast and efficient.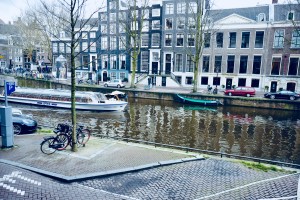 Where to stay? The canal district of course – the old part of the city where you can walk to the museums. We chose the Waldorf Astoria which is a series of former homes from the wealthy traders of the area. But it wasn't an easy choice: The Grand and the Pritzker looked equally interesting.
So why stay at an expensive hotel? First the concierge service – and in a foreign country there is nothing like having a great concierge that can arrange things for you. That can be as simple as dining in a Michelin Star restaurant (of which they have one on site) to a private canal tour. But the first morning what did we want?
Breakfast, and some days I am more of a breakfast eater than others- and that morning I woke up ready for a breakfast that would make a carpenter blush.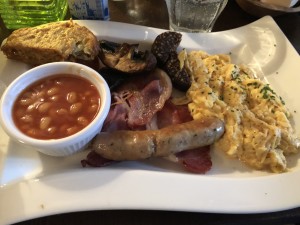 The concierge recommended several places, but for my appetite he suggested Greenwoods Keisersgracht. They started as a tea room, and serve excellent teas and coffee (I am Norwegian-Athabascan-American so coffee is not just a morning routine it is a religion). Then ventured into breakfast. When I saw the proper English breakfast it was like manna from heaven.
Walking along the streets it was easy to find – although we did stop to ask a nice American who had opened a hamburger place – he said "Greenwoods is the best place for breakfast, but when you are ready for lunch, come have my burger." Sadly, we didn't have the time to go back.
There are a lot of Americans in Amsterdam, and when we were sitting for breakfast we met a family who had moved here.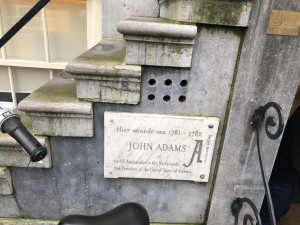 Walking along we discovered this plaque about John Adams. He spent time in Amsterdam because the early Americas needed to borrow money to fund a nation. In those days Amsterdam was the financial center of the Western World, and thankfully they loaned us millions of dollars to allow our nation to start.
These financiers had made their money in trade – mostly trading spices, and, sadly, slave trade. They discovered financing of ships was risky, so they tried financing a new nation.
The other result of this friendship was one of the US earliest friendship treaties. This is why so many Americans have moved to Amsterdam – not only is it a great European hub but they have a treaty that allows entrepreneurs who have business an easy place to live and work. To become a citizen you must work in the Netherlands for five years, keep your nose clean, and learn to speak, read, and write the language in a fashion (they will test you).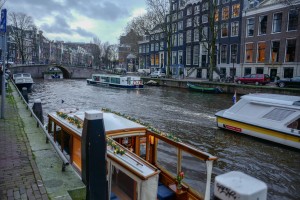 The canals have a lot of different tour boats at many price points- but this was our favorite boat. Arranged by the concierge at the Waldorf, this boat was built in the 1910's and had been rehabilitated by its owners. They put in an electric engine (meaning quiet) and had outfitted the boat with a bar that had some of the finest whiskey you could imagine. When my wife complained of a cough he poured her an 18 year old scotch that took care of it. I had to have one also, as a matter of precaution, of course.
Having a tour of the canals you will see the areas where ships brought in the goods from Indonesia and Africa. The warehouses that have been converted to loft apartments and businesses. You will note that the buildings lean toward the canal and have a hook on the top to allow the cargo to be brought up to the top floors.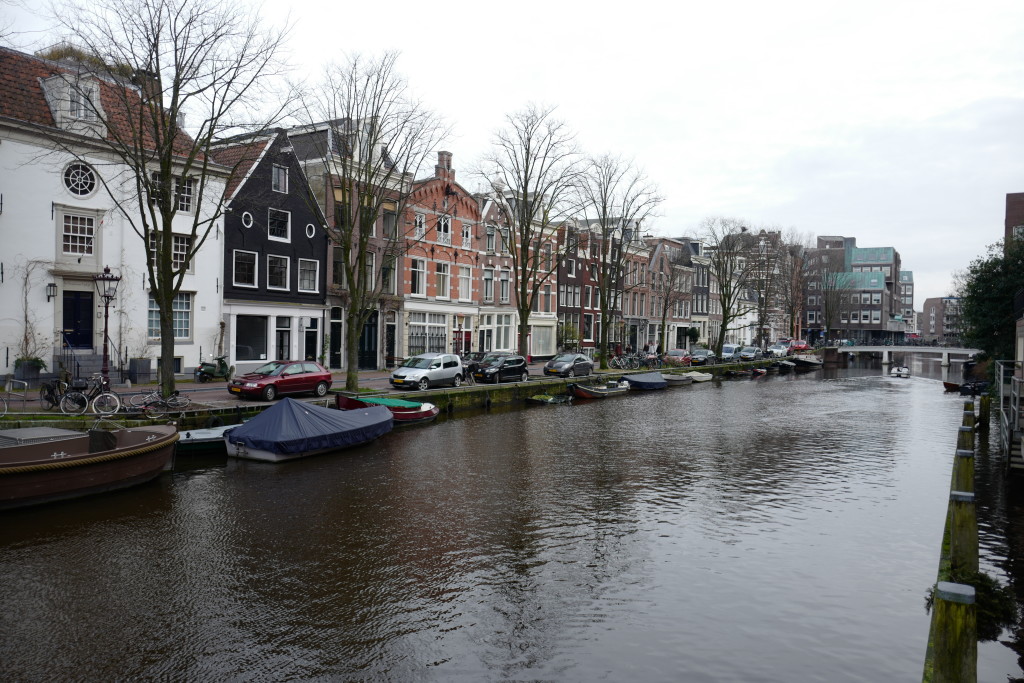 If you look at the second house you will see the pulley at the top of the house where cargo would have been brought up to be stored.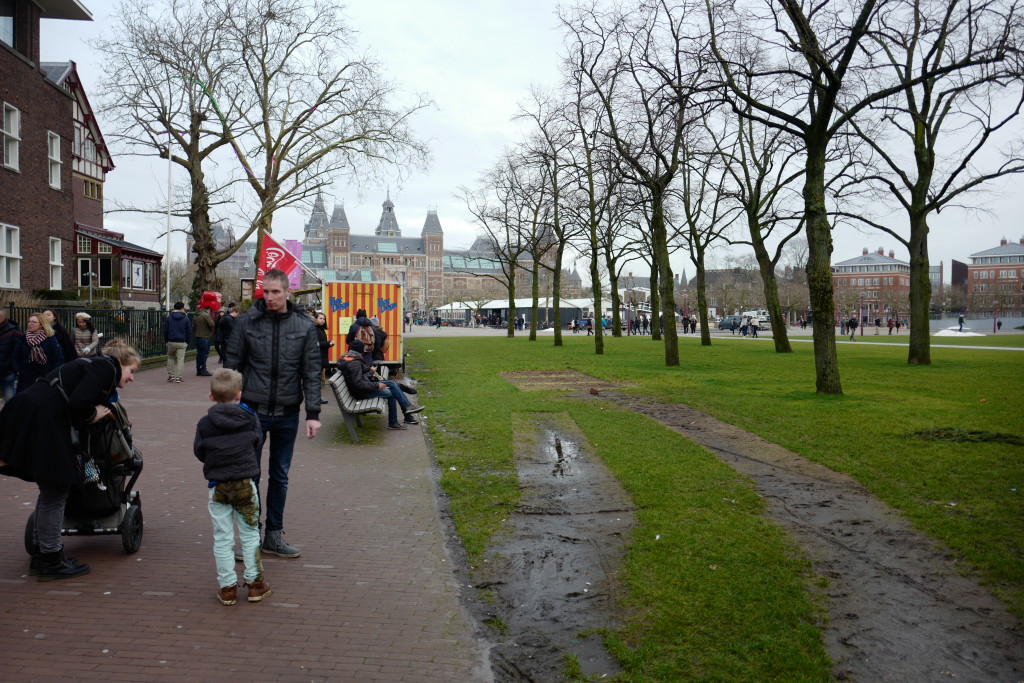 We didn't bring our son for this trip, but boys are the same everywhere. This boy had been chasing birds when he slipped on the mud and got his pants wet. He didn't know whether to laugh or cry – and later cried a bit. We decided this was our last trip to Europe without our son – we missed him.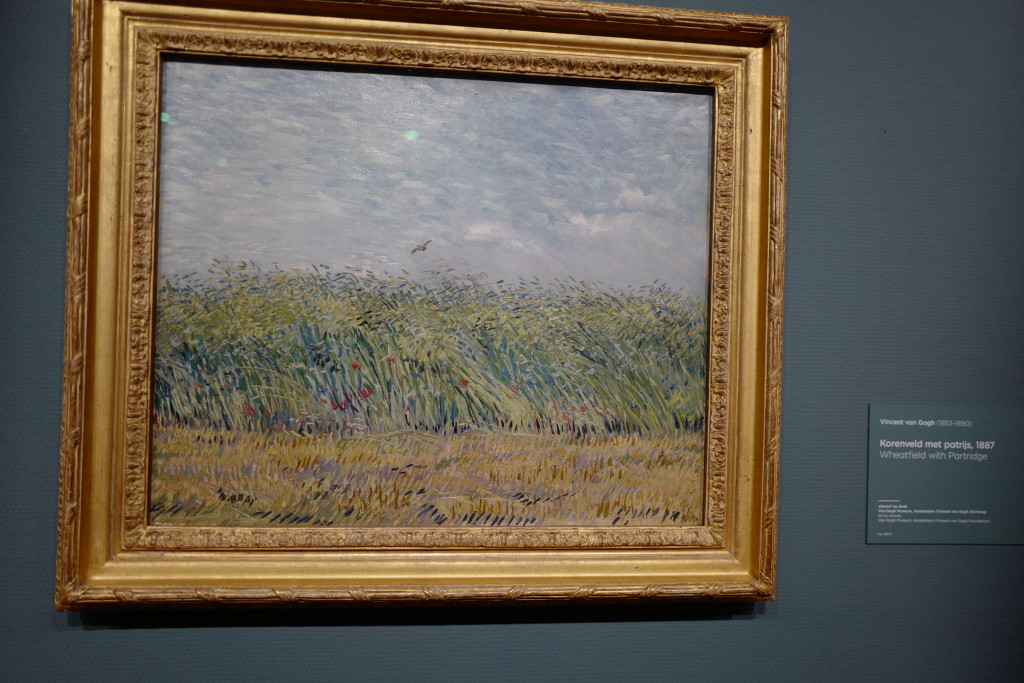 In college I took an art appreciation course -probably 40 years ago. Ever since that course I wanted to see the Van Gogh museum. It does not disappoint. We were lucky that it was not tourist season, an advantage of winter in Amsterdam. If you go during the summer get the tickets ahead of time on-line. Even in winter I had to stand in line for 30 minutes to get the tickets. I probably wasn't suppose to take the photograph, but…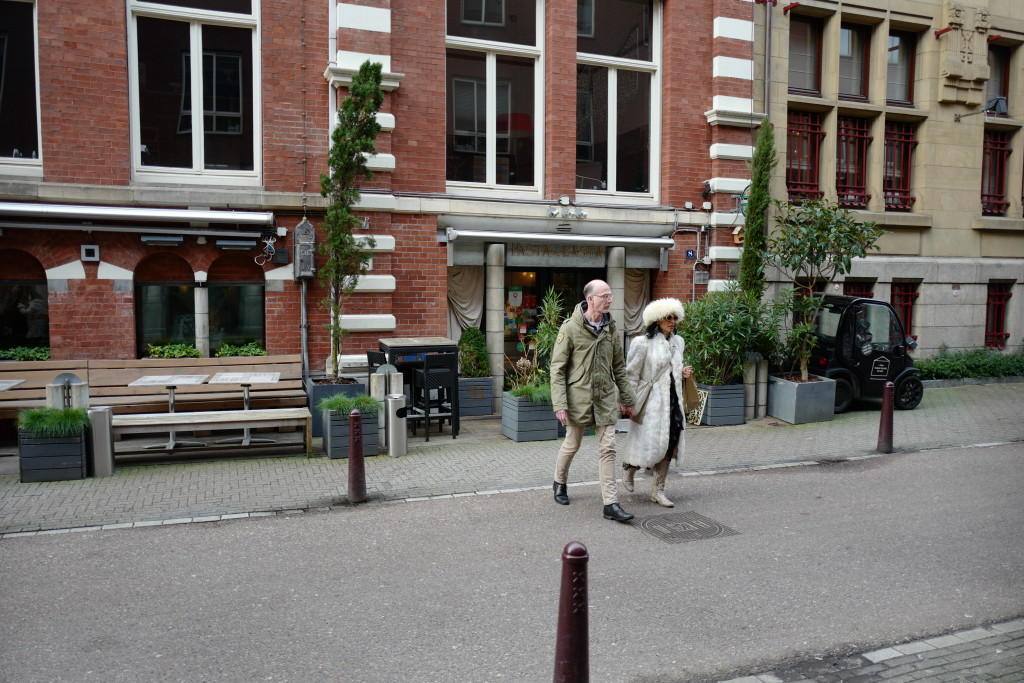 As with every city – people watching is a sport.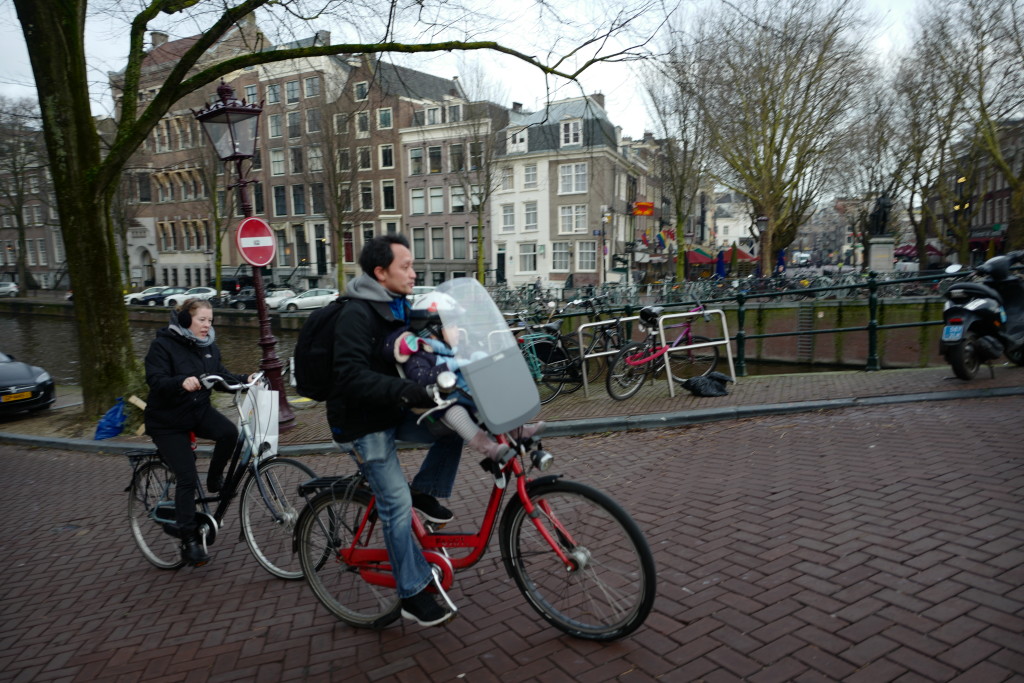 Did I say bikes? 20,000 bikes a year end up in the canals.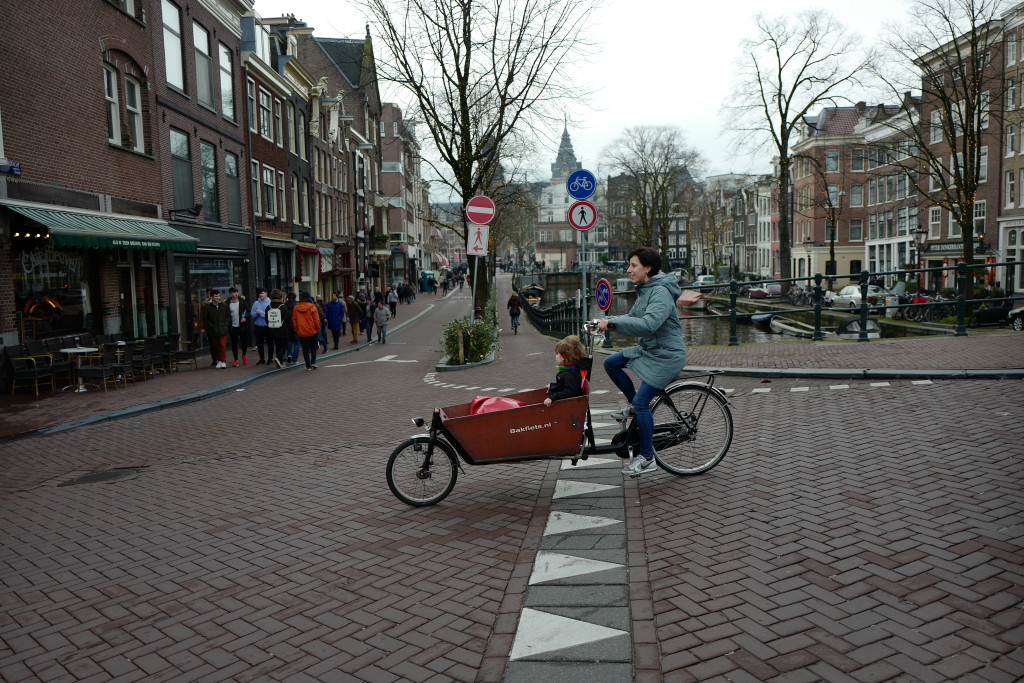 Lots of bikes for everyone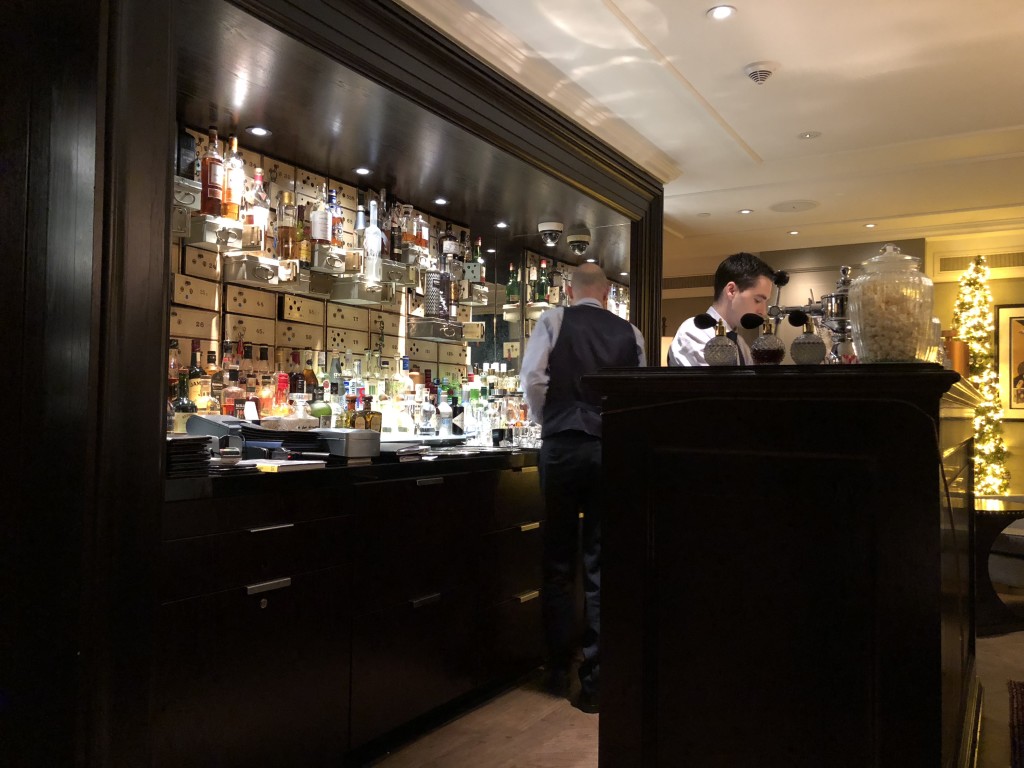 The Vault Bar at the Waldorf. You can see the safety deposit boxes where they have the liquor on display. These are great mixologists that can not only make you a wonderful Manhattan, but have their own drinks that are worth the try.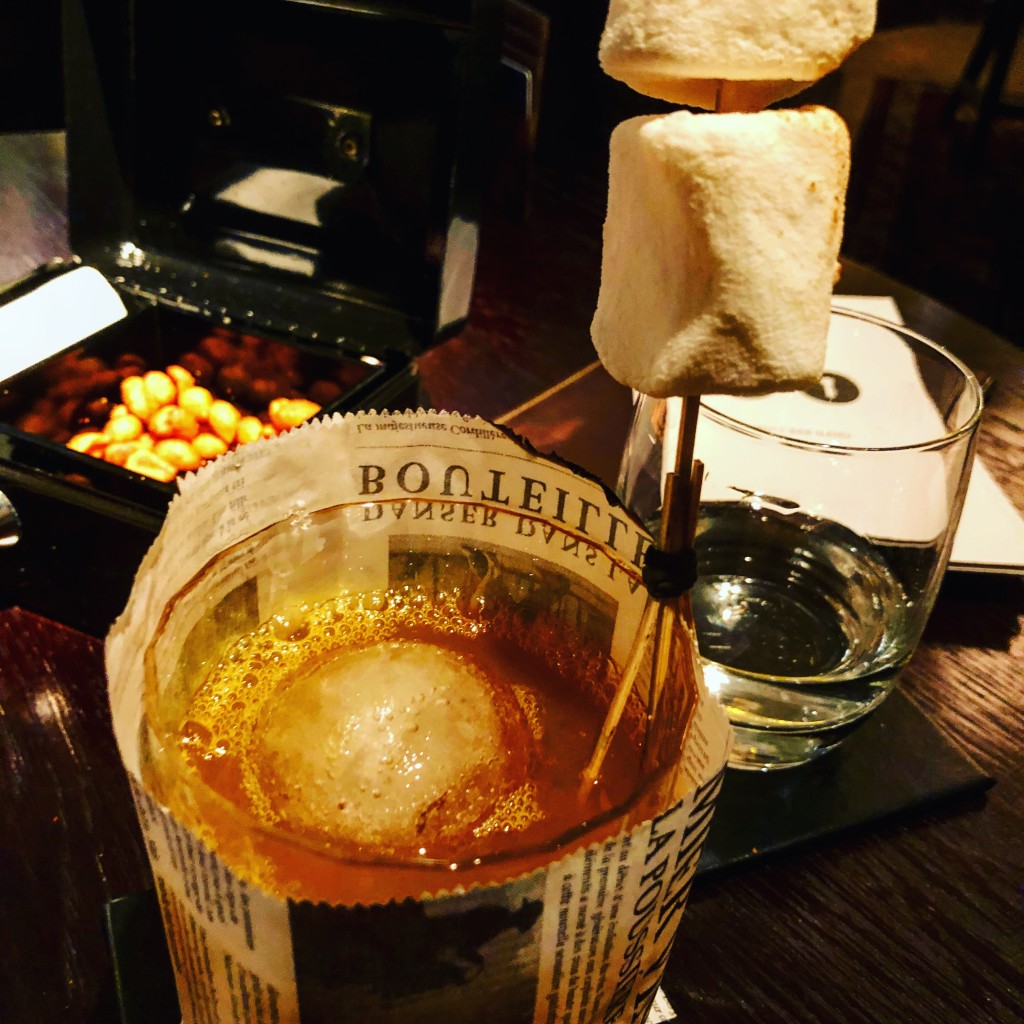 Their version of a speakeasy drink- bourbon, bitters, vermouth, and a marshmallow.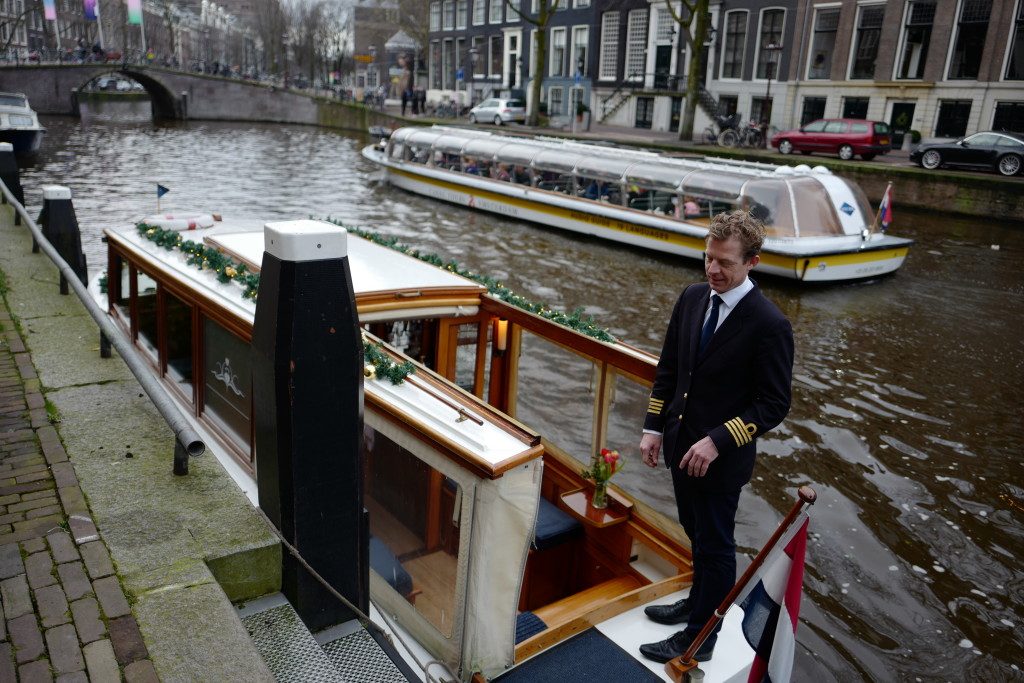 Our Captain and his boat. Next time we go we will arrange to have a dinner cruise with them.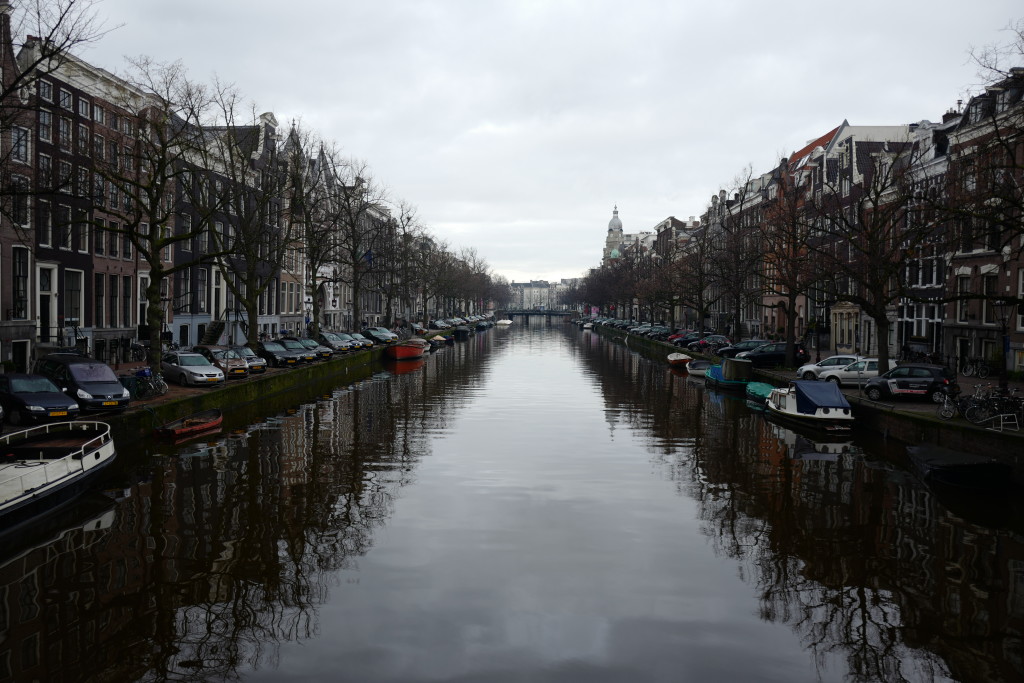 You come for the canals – you stay for the people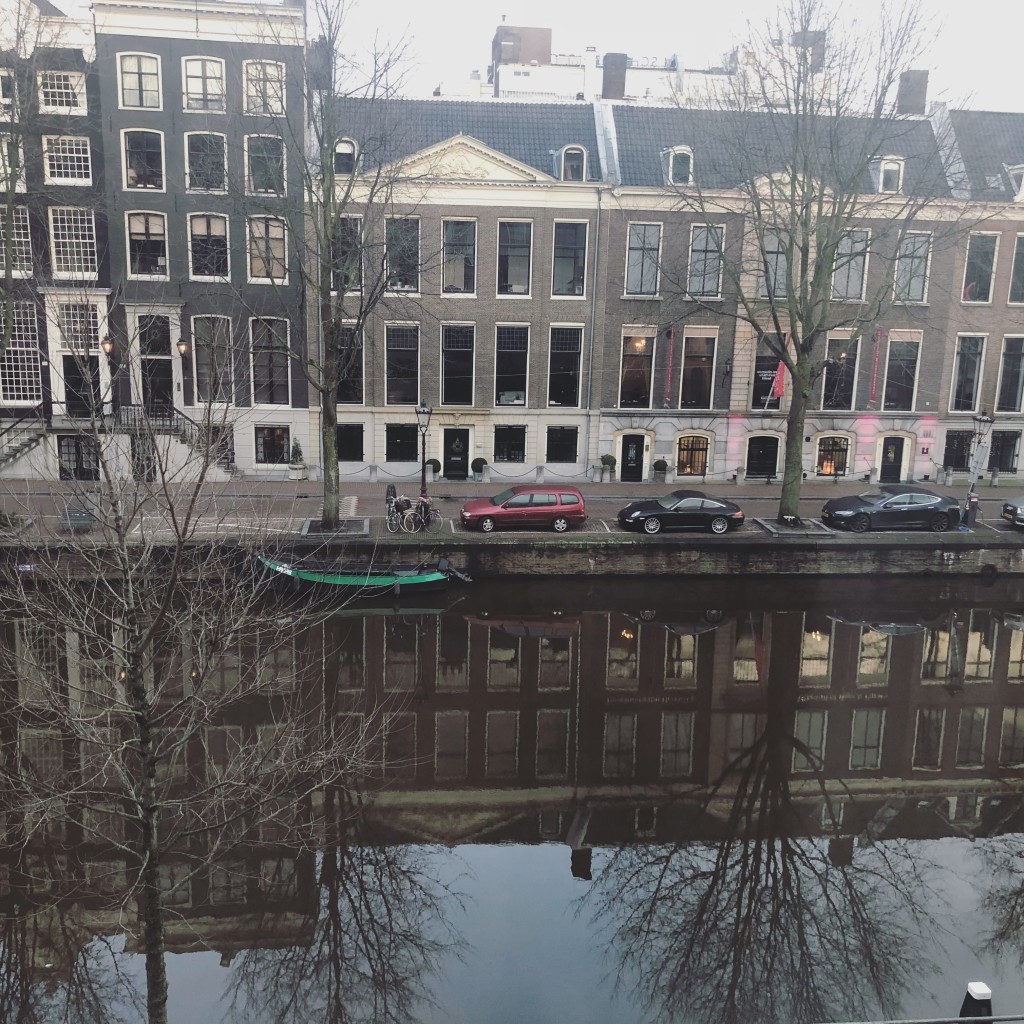 The view out of our window at The Waldorf Amsterdam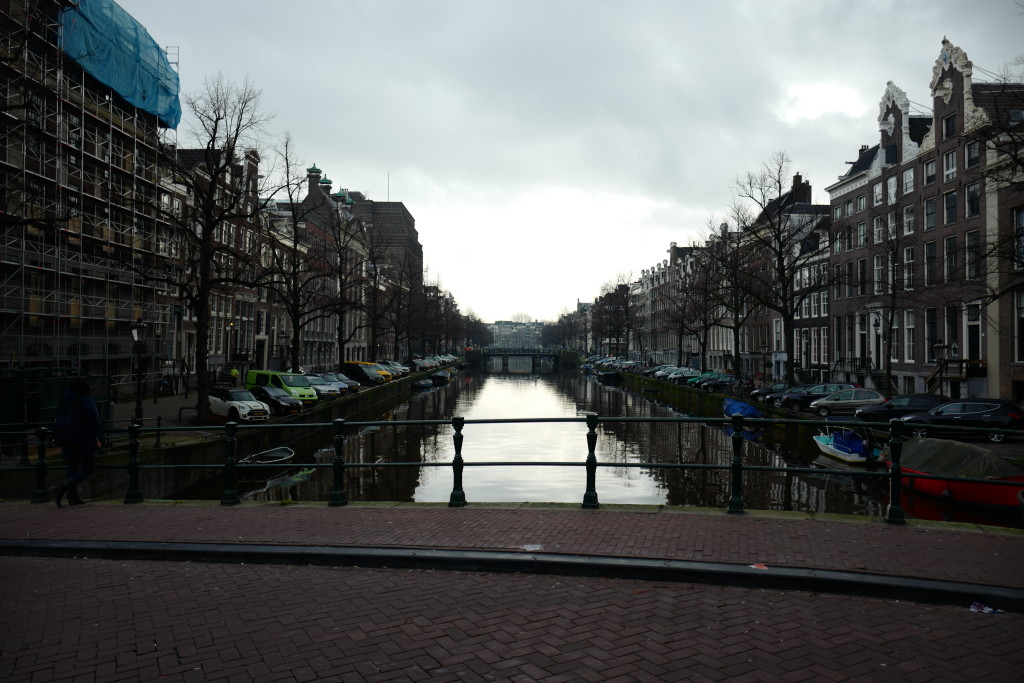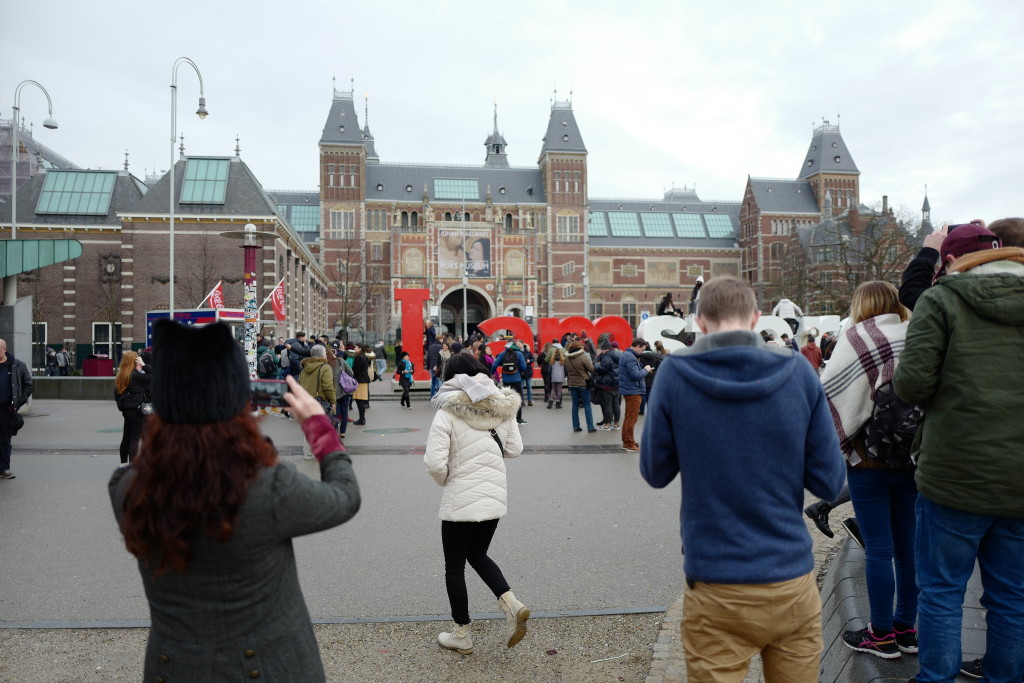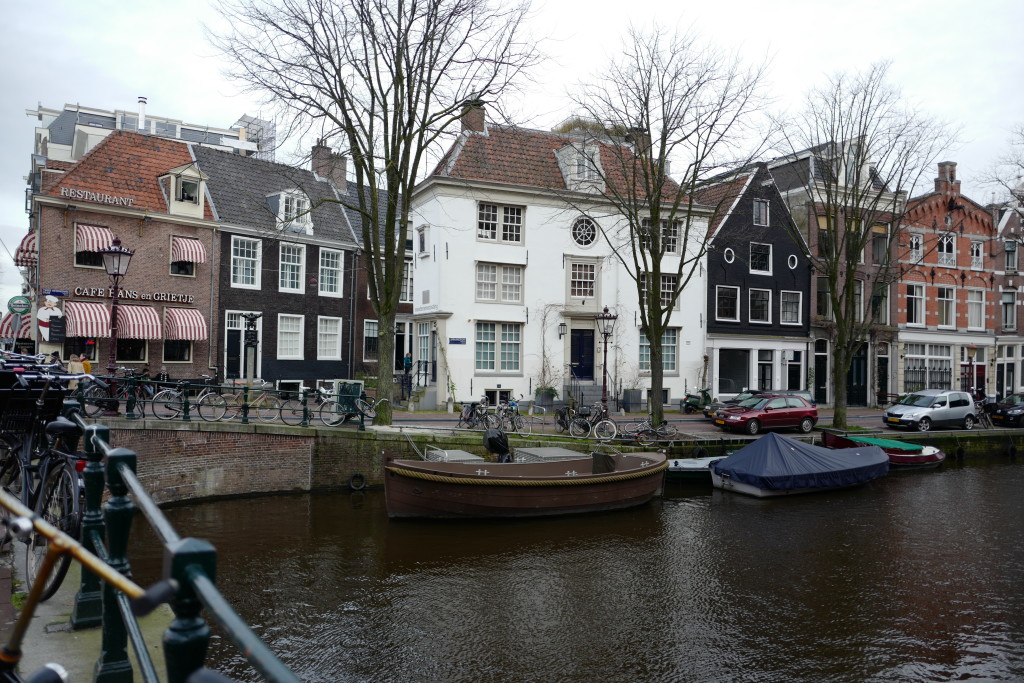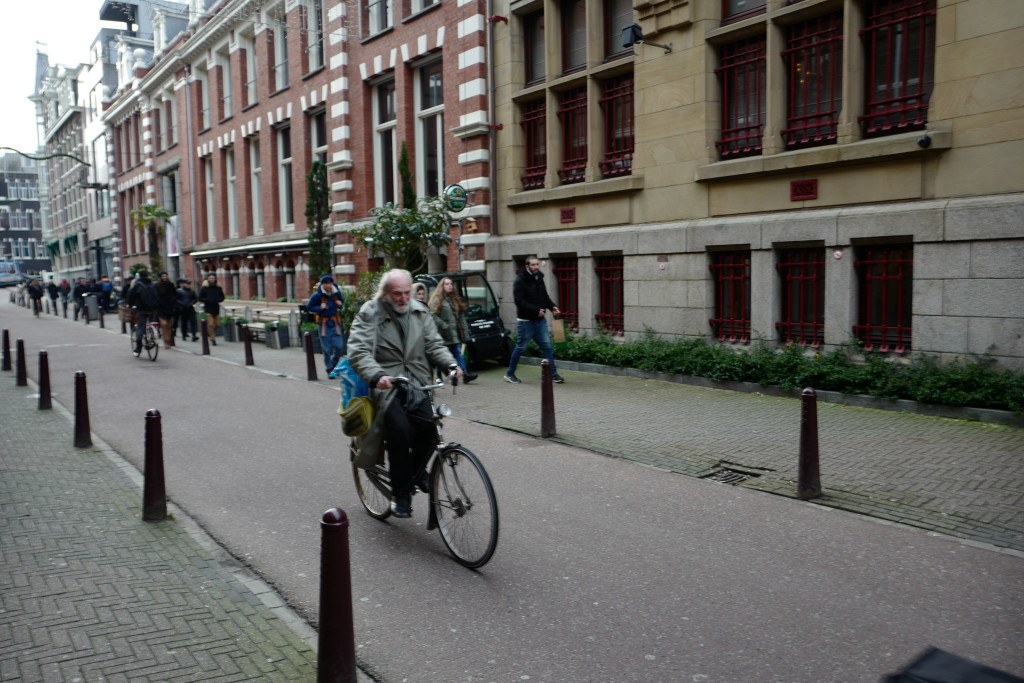 Comments