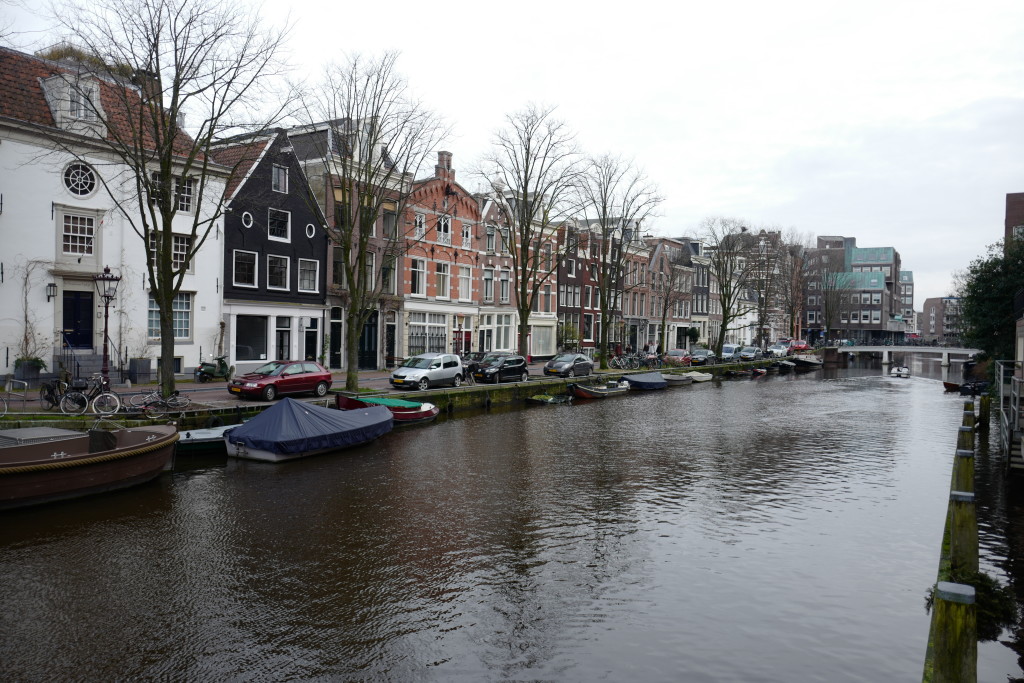 Being ill overseas is never fun. You are away from home, you are uncomfortable, and you don't have the advantages of going to a drug store and reading the medications in your language.
Here are a few tips:
First, if you are ill cancel the trip. I know it is hard to imagine, and you have planned everything for this great trip, but it really isn't worth it. You will be miserable on the airplane, you won't be able to enjoy the sights, and even though there may be plenty of people who speak English – medicine speak is not easily translated.
Second, if you become ill to where you need to see a physician, check with the local consulate and ask where and who they go to. Often there are ex-pat American doctors who practice overseas. No language issue, but it is nice to talk to an American doctor about your problems. If there is not an American physician, the consulate can tell you which doctors, or which hospital they go to.
Third, insurance overseas is usually not an option. Chances are you will be paying cash. The good news is that medicine, lab tests, and emergency room visits do not cost as much as they do in the United States. Some insurance cards do have "out-of-network" benefits, meaning they can be used for overseas issues. Before going overseas it is worthwhile to check with your insurance if they have this, or if they have some additional insurance you can purchase while overseas. Some credit card companies offer insurance for medical evacuation flights back to the states – this is a great benefit.
Fourth, if you take medication regularly bring it in your carry-on bag so that you always have it with you. Use the original prescription bottle, don't combine them because security wants to see that it is a valid prescription.
Fifth, carry your medical history. If you see your primary care physician they can print out your last visit which includes your medications and any allergies or other issues you have. Take that with you so that you can present it if you become ill. This also helps if you are going through security and they want confirmation of your medications. This is especially the case with narcotics.
My wife became ill on a recent trip overseas – thankfully she is married to a doctor, but that doesn't mean it is always easy. Here is what happened to us in Amsterdam. I was thinking it would be a lovely weekend, filled with museums, a boat ride, eat some great food, and take photographs with my beloved Leica Q.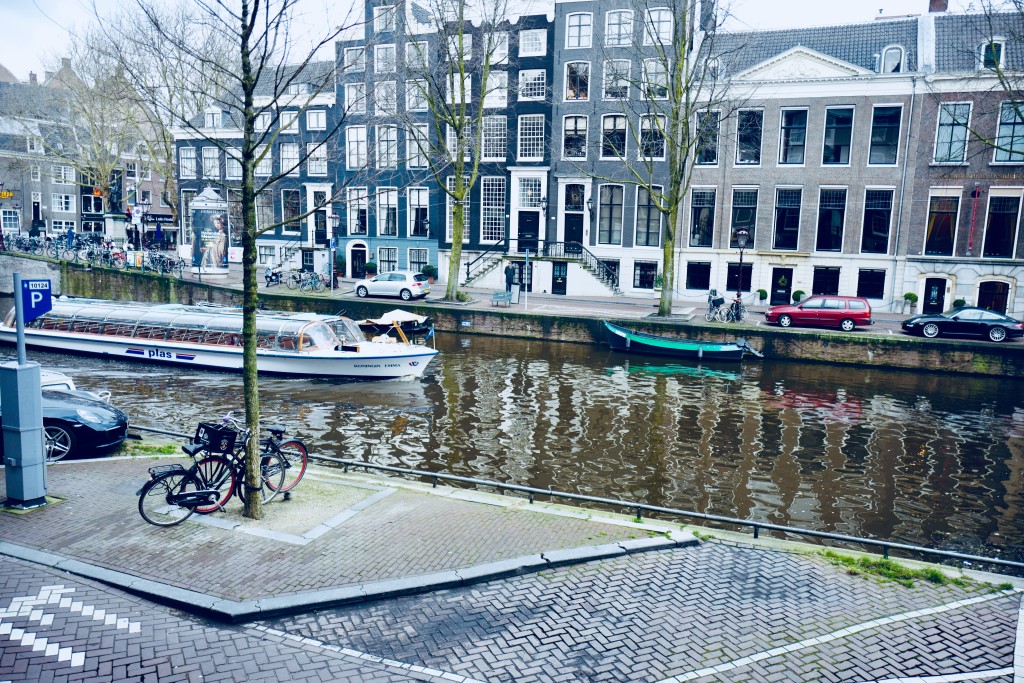 Amsterdam is a wonderful city to visit. Almost everyone speaks English, the airport can best be described as "cool." You can see my wife below as we leave the airport.  The airport is an important find.  Often when traveling to Europe we go through London, but if the UK leaves the European Union then travel to the EU from the states would be best if you go directly to a European city (the UK will have their own passports and the EU will have theirs).  Heathrow Airport is not an easy airport to navigate through, but Amsterdam is great and friendly. We loved the airport.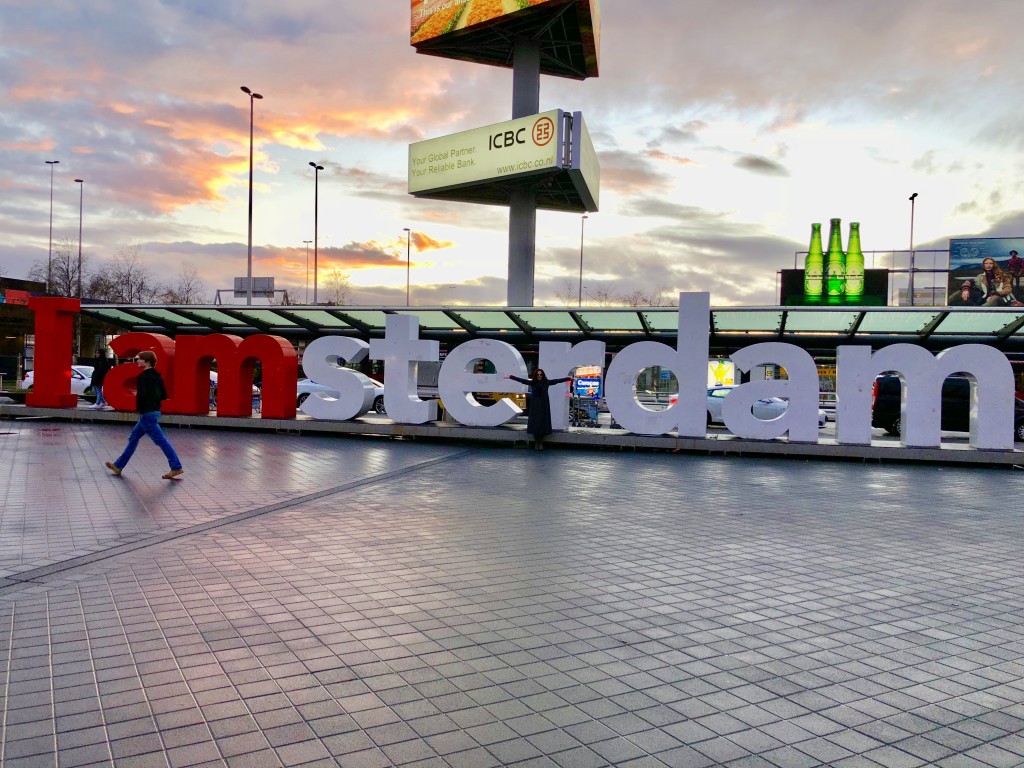 Amsterdam is one of the most friendly cities in Europe, and you can walk everywhere. The canals, of course, are beautiful. The primary language is Dutch, which is somewhat similar to German, but not always.  There are three official languages in the Netherlands: Dutch, German, and French. The hotel concierge spoke five languages fluently.In Old English Dutch simply meant "people or nation." These people were once German but it might be they became isolated. Today Germany is called Deutschland. Dutch will tell you they can understand some German words.
Biking is the national sport in Amsterdam. You can rent bikes, you can ride easily – and we learned that 20,000 bikes a year end up in the Amsterdam canals.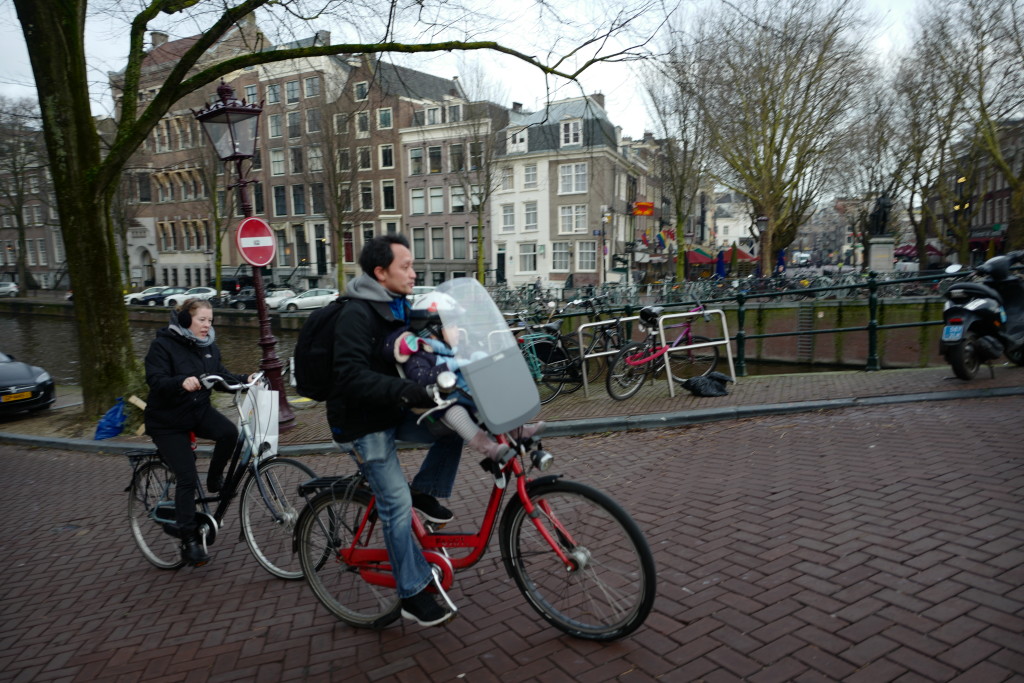 The Dutch love Americans.  During the late 1700's they were wealthy businessmen and were responsible for the first loans to the United States government. Those first 11 loans to the US were the beginning of a long friendship between the two countries.  Wandering to breakfast one morning we found where Adams had stayed while being the first ambassador to the Netherlands.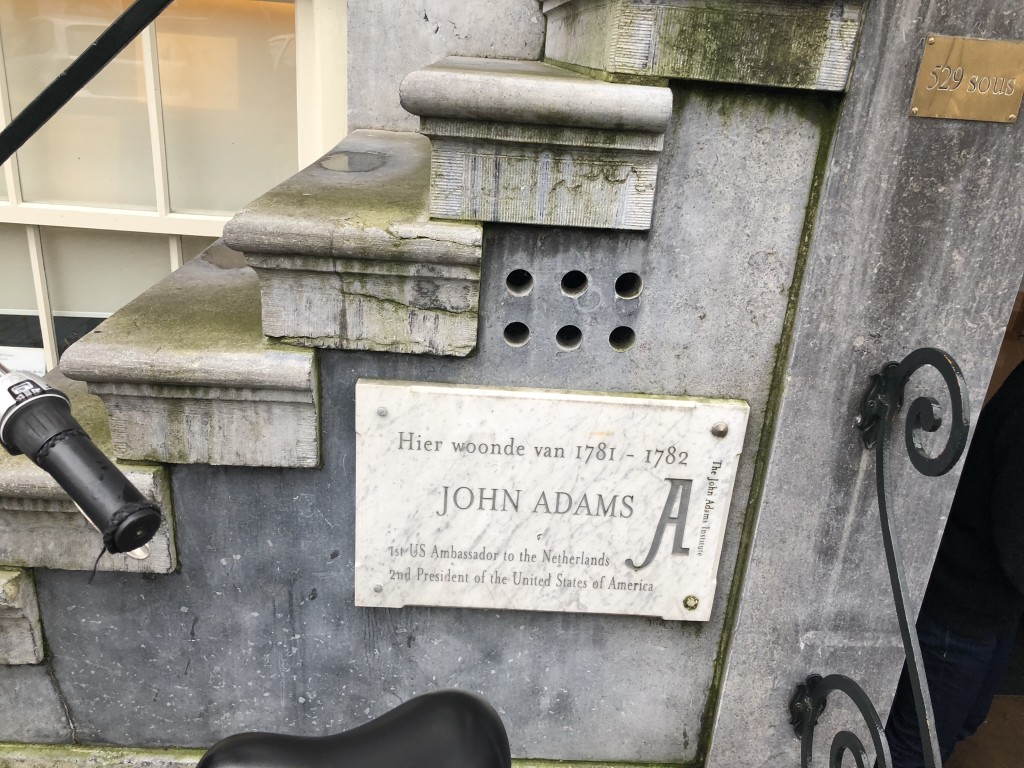 Speaking of breakfast – asking the concierge this place had the most amazing breakfast. This was their British breakfast, complete with legumes! We stayed at the Waldorf Astoria in Amsterdam, mainly because we wanted the great concierge service they are known for.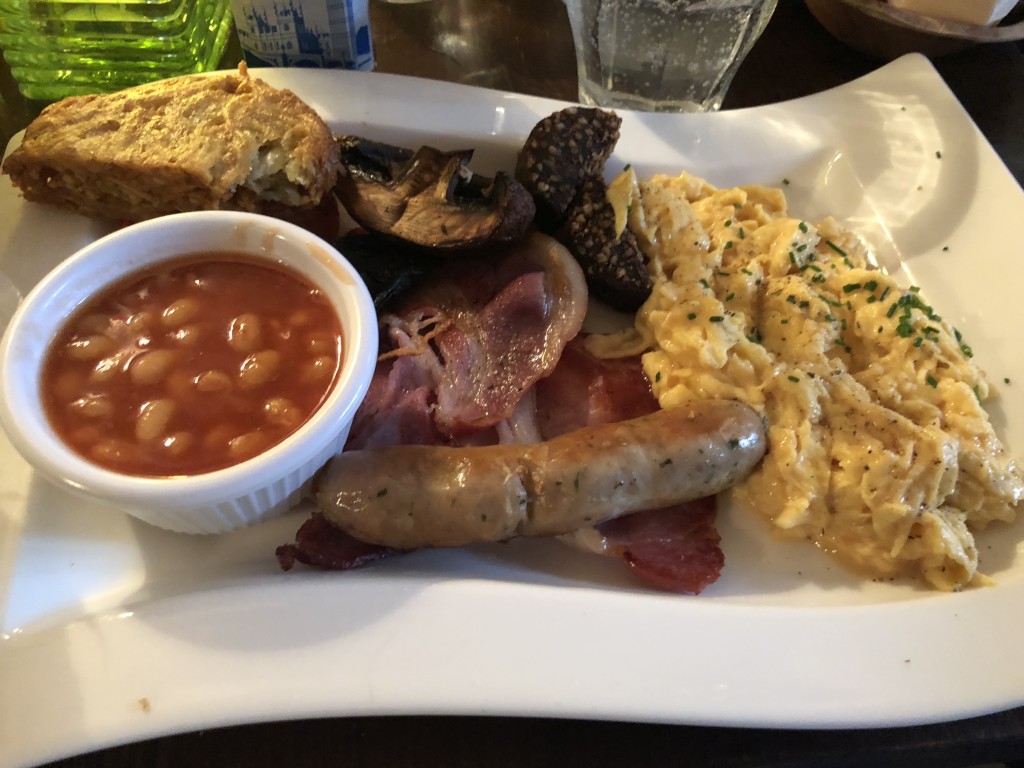 The Waldorf has been ranked number one in Tripadvisor for several years. While there are many hotels to choose from, our decision was based upon wanting a great experience for a couple of days, and we had it. It also helps to have a great concierge if you become ill.
The above was the view of our canal from our room at The Waldorf. Hard to beat the view. Most hotels in this district are on canals, and all have great views. The Waldorf was perfect. Below was the boat that the Waldorf arranged for a private tour of the canals.  Not only did we have a great experience, but this is when my wife started to feel a bit ill.  She asked for a whiskey for her throat, and was served a 16 year old single malt.  Sadly that did not help.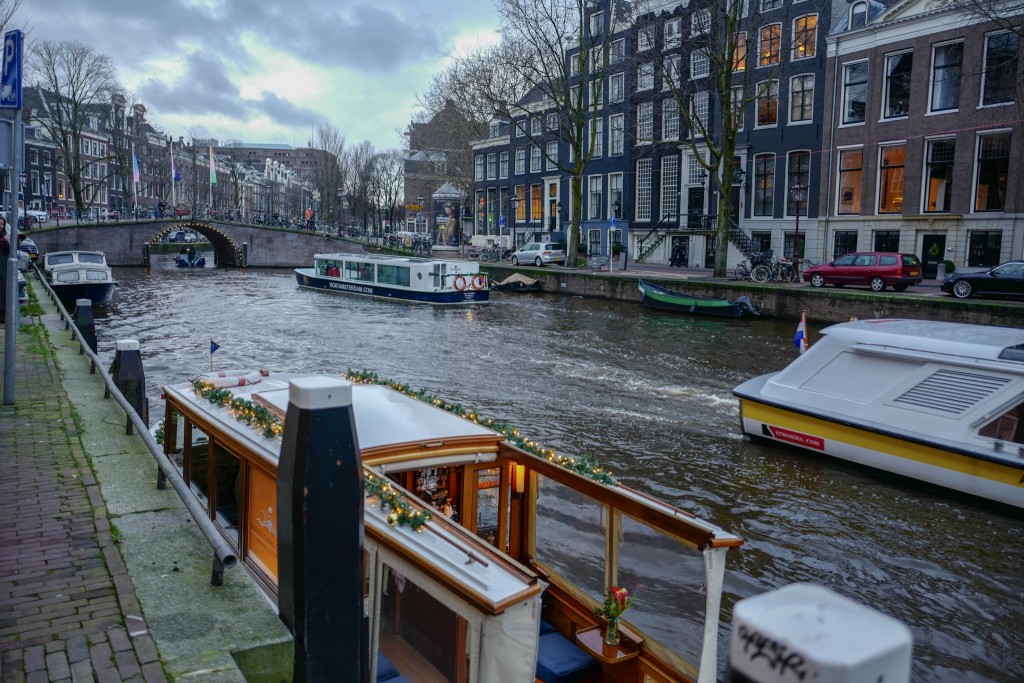 We had plans for dinner at a Michelin Star Restaurant, and were going to tour the red light district when my wife said she was too ill to go, so we dined in. Delicious room service, but as she developed a fever and a bad cough I had to go to the pharmacy to get medicine. The concierge pointed to the closest open pharmacy about a mile away – and off I went.
What you never consider is that even though the people speak English, the medicine boxes are all in Dutch. The pharmacist was most helpful, suggesting Paracetamol for her fever and some cough syrup with codeine for her cough. My wife thought the Paracetamol was magic, reduced her fever right away- later I told her we call this Tylenol. We cannot get cough syrup with codeine in this country except by prescription, but overseas it is quite easy. My wife slept comfortably and we were able to easily travel home the next day.
Amsterdam was beautiful, and I would highly recommend seeing it. But not when you are sick.
The Van Gogh museum was a plus, something I had wanted to see since taking Art Appreciation in College over 40 years before – and it did not disappoint. Plan ahead and get the tickets on-line (I waited in line for an hour, and it wasn't tour season).
A few more photographs: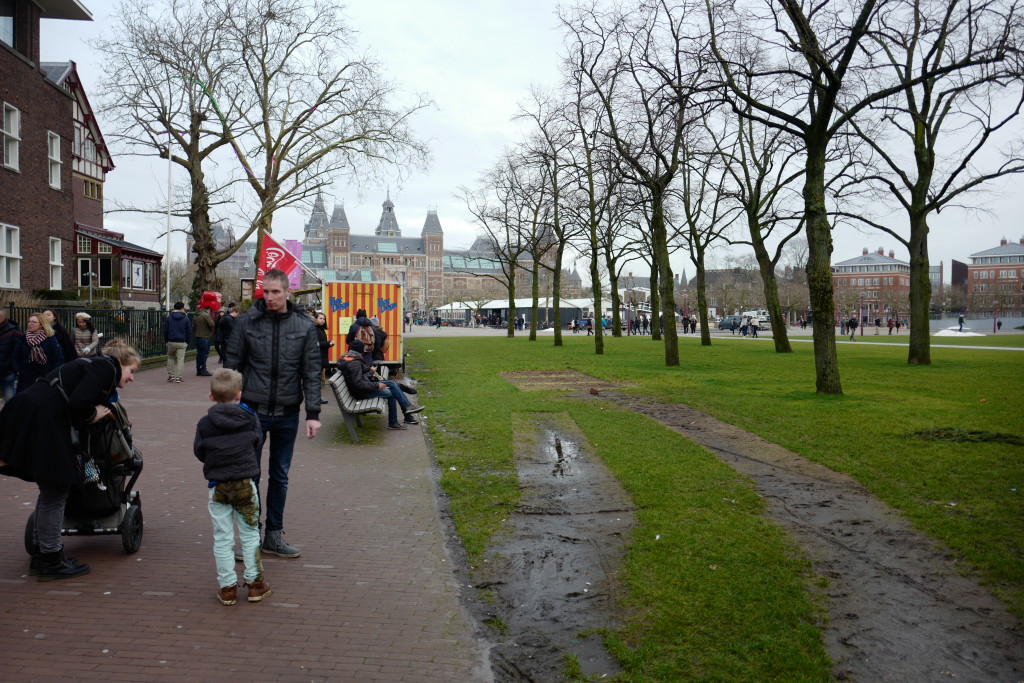 The above was one of my favorites. This boy, about the same age as ours – chased some pigeons on slippery grass and fell into the mud. He didn't know whether to cry or laugh – and then mom brought out some "wipes." Boys are the same everywhere. You can see – his pants took a lot of mud.  Behind is one of the larger museums, the Rikjsmuseum.
We look forward to returning – but in a healthier state (we hope).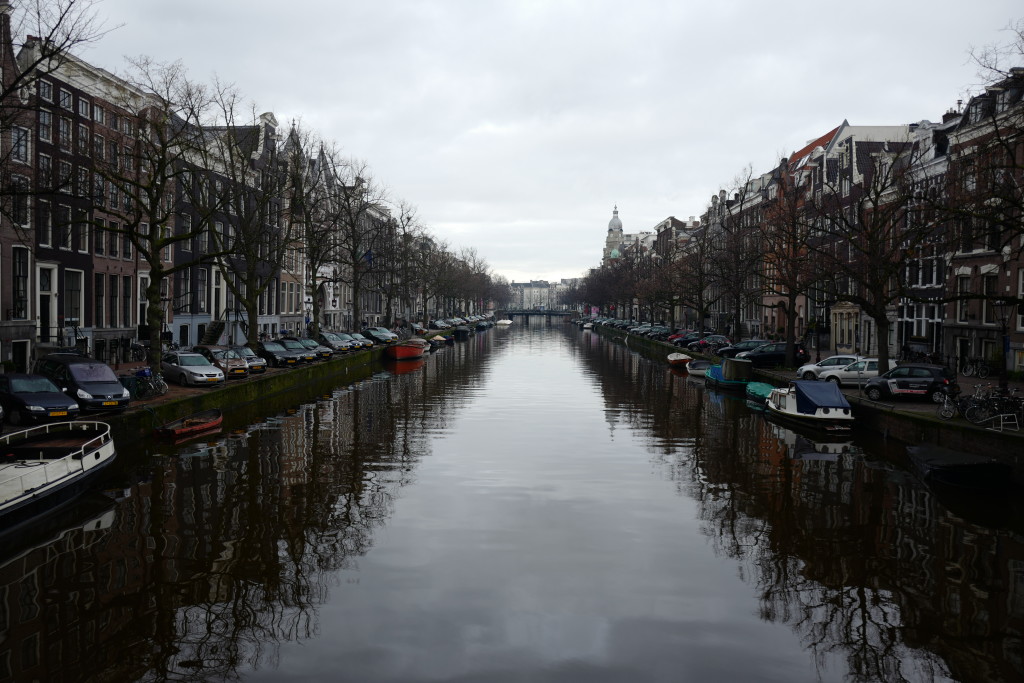 Comments