Our love of the Four Seasons hotel group began with our son. Traveling with an infant was a challenge, not that he was difficult, but the fear.  The Four Seasons made traveling with JJ easy – and fun. Here are a few photos from our favorite moments with the Four Seasons and JJ:
His first Four Seasons was Four Seasons LA. On arriving – not only was the room ready for a 10 month old, they loved meeting and greeting him  – even the shower!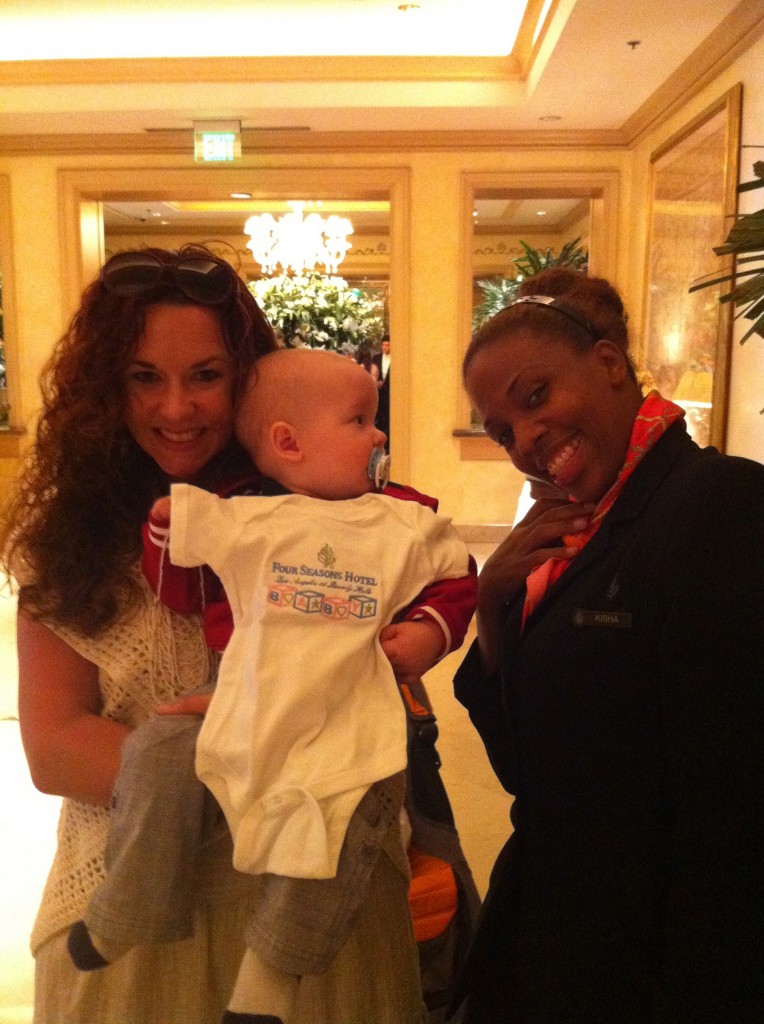 Not to be outdone the Beverly Wilshire– another Four Seasons property in the heart of Beverly Hills – said, let us show you how we treat JJ. As soon as we pulled up in the car the doorman said, "Is that JJ?" For the entire stay the staff all knew who JJ was, and seemed to delight in greeting him.
Walking into the room – instead of the traditional crib- they had a tent – filled with toys for JJ.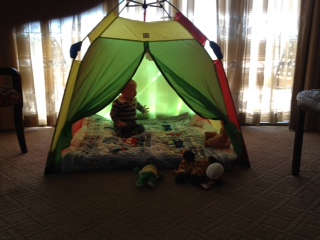 The Four Seasons Hotels attract people who love people. Their philosophy of business reminds me of Chris Brogan's advice:  "Be helpful, be human." Austin Watkins became a good friend of ours in our trips to Los Angeles.
Four Seasons Scottsdale –  we go there a lot because our family (Kim and Bob Westfall) do a lot of events there. They work in the field of event planning with charitable organizations. It is at this Four Seasons that JJ first went into a pool. He has been there many times for events, dinners – and  we have only stayed there once (since we live down the road) – it is an amazing place to visit and see.
Ritz Carlton Chicago
It is run by the Four Seasons group, and is a favorite place for us to stay when we get to Chicago.
New York City
Going to New York meant a return to the Four Seasons New York. JJ had never been there- but upon entering you would think he owned the place. They have a "where is Maxine" contest going on, so when JJ came, he unwrapped Maxine- who spent the time JJ spent at Four Seasons New York with us.
Did you ever go to a friend's house where everything was untouchable by your kid? Four Seasons isn't that place. Not only are children welcomed, but loved, safe, and a delight. They are pretty good with dogs too!
Four Seasons Seattle
Our son has grown – his interests have changed – and everywhere he goes, it seems like Four Seasons is there.  They have watched him grow and watched him change. Some of the staff have moved to other Four Seasons hotels, and we find ourselves planning to go to those hotels just because they have become our family.
Special Mention:

So when we travel our first question about the destination is: "Is there a Four Seasons there?" Coming up in a few days – the mother ship, Four Seasons Toronto.  Then we have several on our bucketlist: Four Seasons London, Four Seasons San Francisco and Four Seasons Hong Kong – all hopefully coming soon – and when we do, we think JJ will approve!
Comments