We traveled to Sweden as a part of talking about the Nuka system of Healthcare in Alaska. Some primary care physicians wished to discuss adopting a part of this system. We loved the people and city so much that we returned to see it just before winter set in.
I travel light – backpack, aeropress, coffee, and Leica.
When you stay in Stockholm there are a lot of great choices. Our first time we stayed at The Grand Hotel. A lovely place that overlooks one of the many waterways.  It also has courtyard rooms, which are uninspiring, but the only time we spent in the room was to sleep and shower. You can see the hotel with all the flags.
The bellmen are ready and willing to help, and to point you to great sights and great restaurants. But we hope to help you with a little of that here. If you go- use the hotel website to make your plans. I made the mistake of not doing that and when I wanted a room with a view of the water instead of the courtyard, they ignored my request.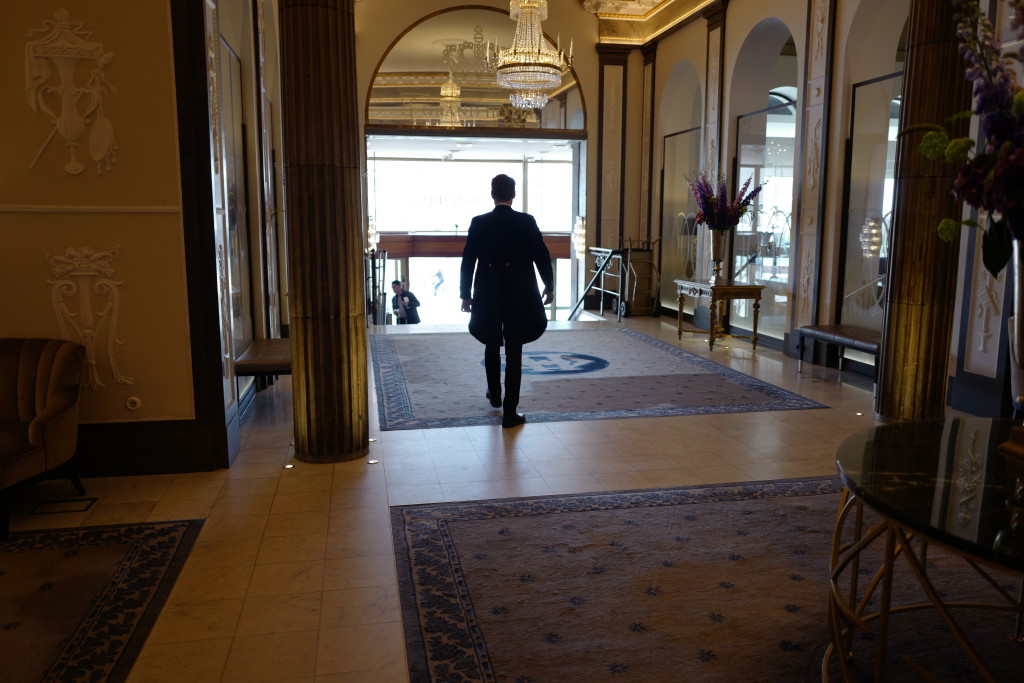 The coffee in Sweden reminds me of the people: smooth, full of life, and not bitter. The coffee inspired me to return, and I knew this is the first place in the world where I did not need to bring my aeropress.
My son has been stealing sips of my coffee since he was a year old. He has had coffee on three continents and Scandinavian is his favorite.
Stockholm has some very old parts of the city. Narrow streets, places where you could imagine were made in an era when Sweden was the superpower of Europe.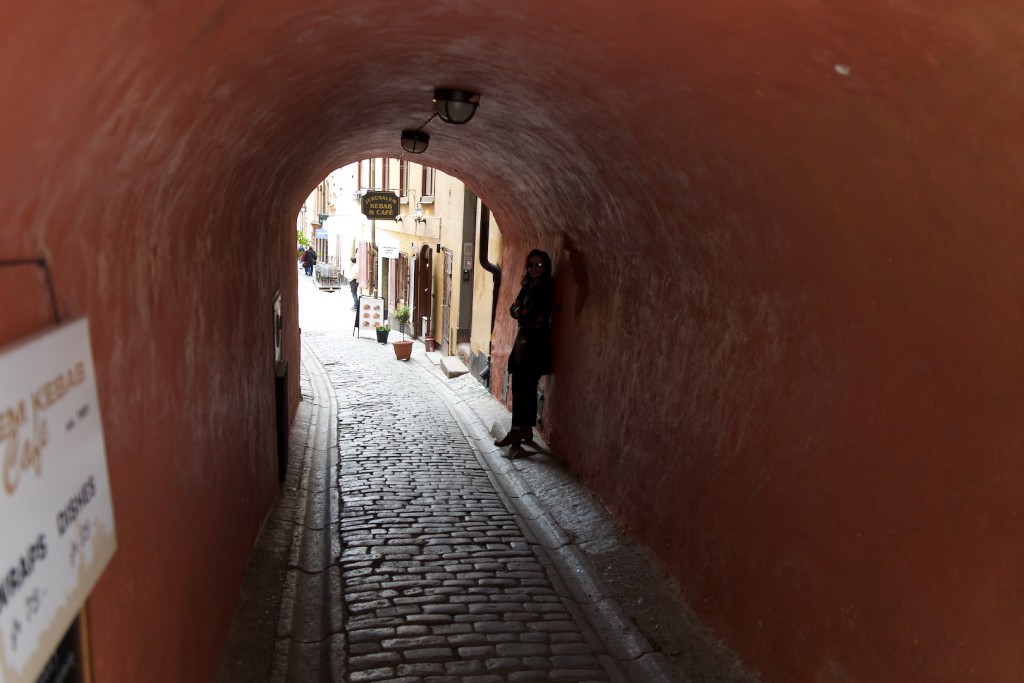 The "old" area of town, near the Royal Palace, are great places to walk. Turn the corner and there is a Michelin Star Restaurant or a quaint shop.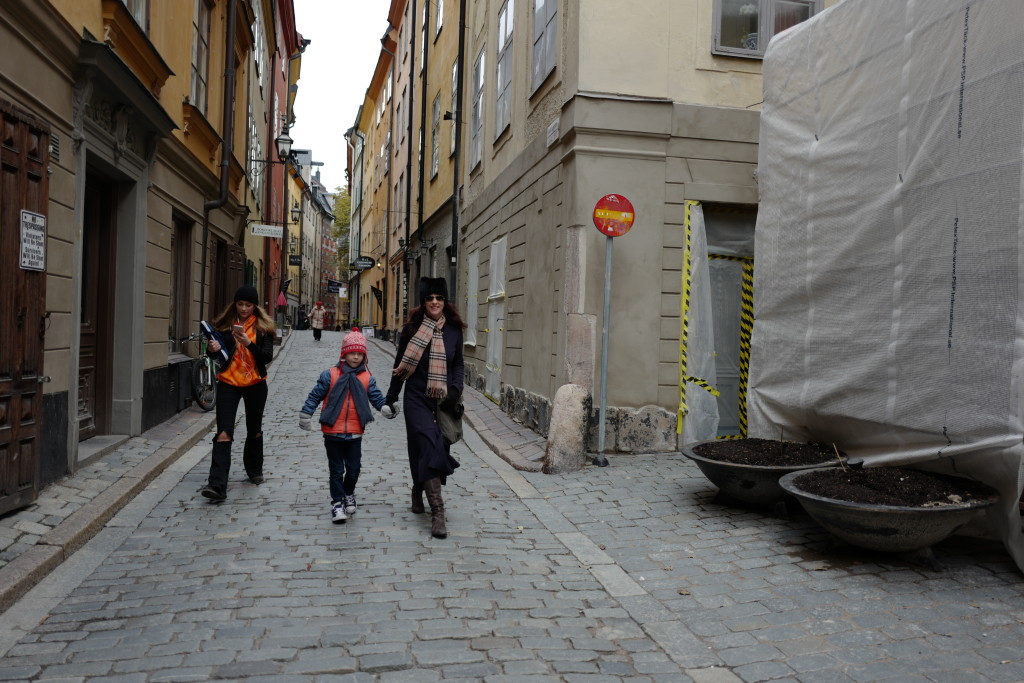 Speaking of Michelin Star Restaurants, Oaxen is one you shouldn't miss. Not only is the food amazing, but the views along the waterways are captured best with a Leica.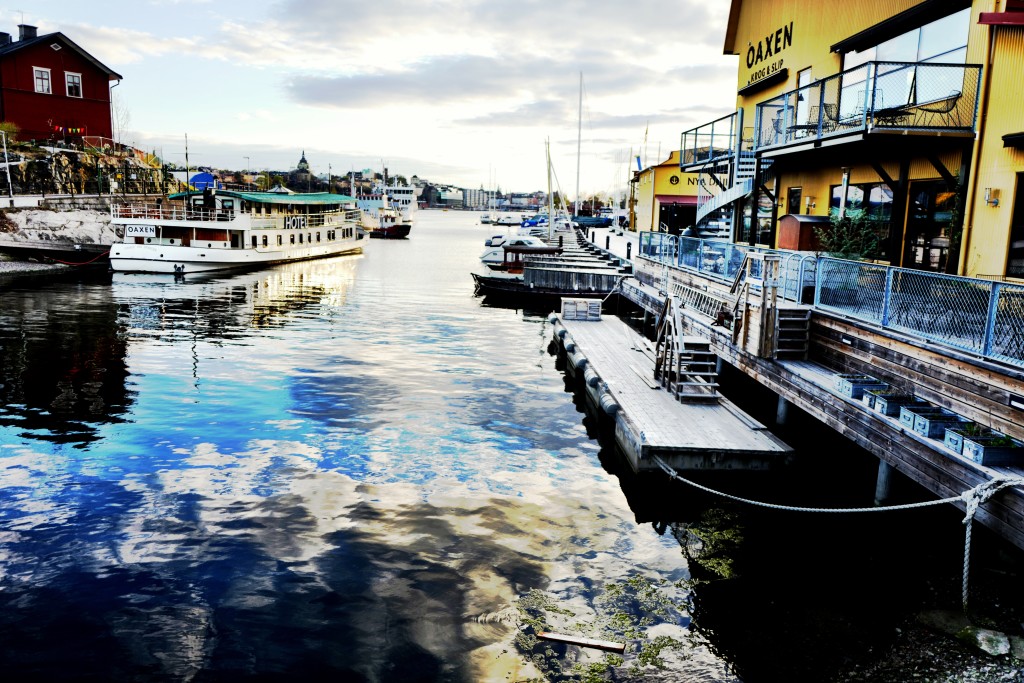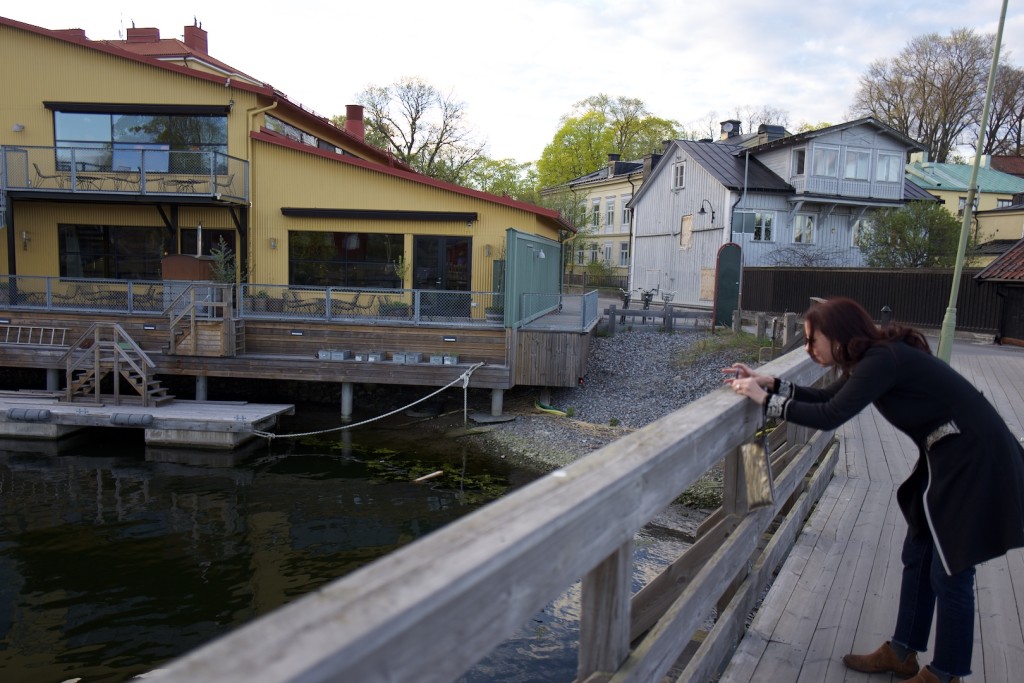 And in the hotel was Mathias Dahlgren – Matbaren – a Michelin Star, fine cocktails and a great wine outlook.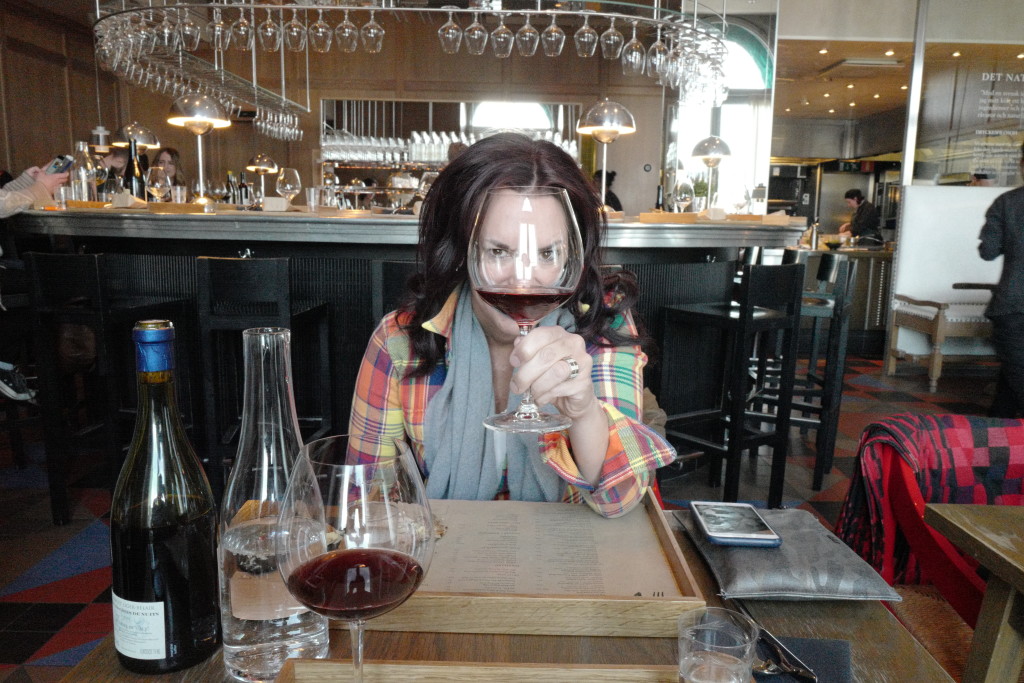 But nothing is more quintessentially Swedish than a meatball. The meatball originally came from Turkey, when King Charles XII of Sweden was recovering, 1709. You could imagine the combination of lamb and spices, maybe some other meats (no pork, and probably not beef). Slowly cooked. When Charles XII returned to Sweden he brought back this delicacy. It was not a main meal, but enjoyed with coffee (Fica as Sweden calls it). When the meatgrinder and stoves became widespread 150 years later in Sweden the masses followed the royals (think of the Royals then as our version of pop culture).
The great migration of Swedes to the States in the 1880's brought meatballs to the United States and since our meats were beef and pork, that became the American meatball. Sadly, most people overcook the meatball. When I met my wife she told me she didn't like meatballs, although she tried to give me a recipe for meatballs (beef balls in a crockpot with grape jam). I told her that the crockpot would overcook the beef, leaving it dry and tasteless.
In Stockholm my wife discovered she enjoyed the meatballs. The delicate nature of ground meats, especially lamb, some pork, a bit of beef and spices then combine with lingonberries.
I can only imagine how a meatball would have tasted in the Ottoman Empire, with the many spices (I shall experiment with this and let you know).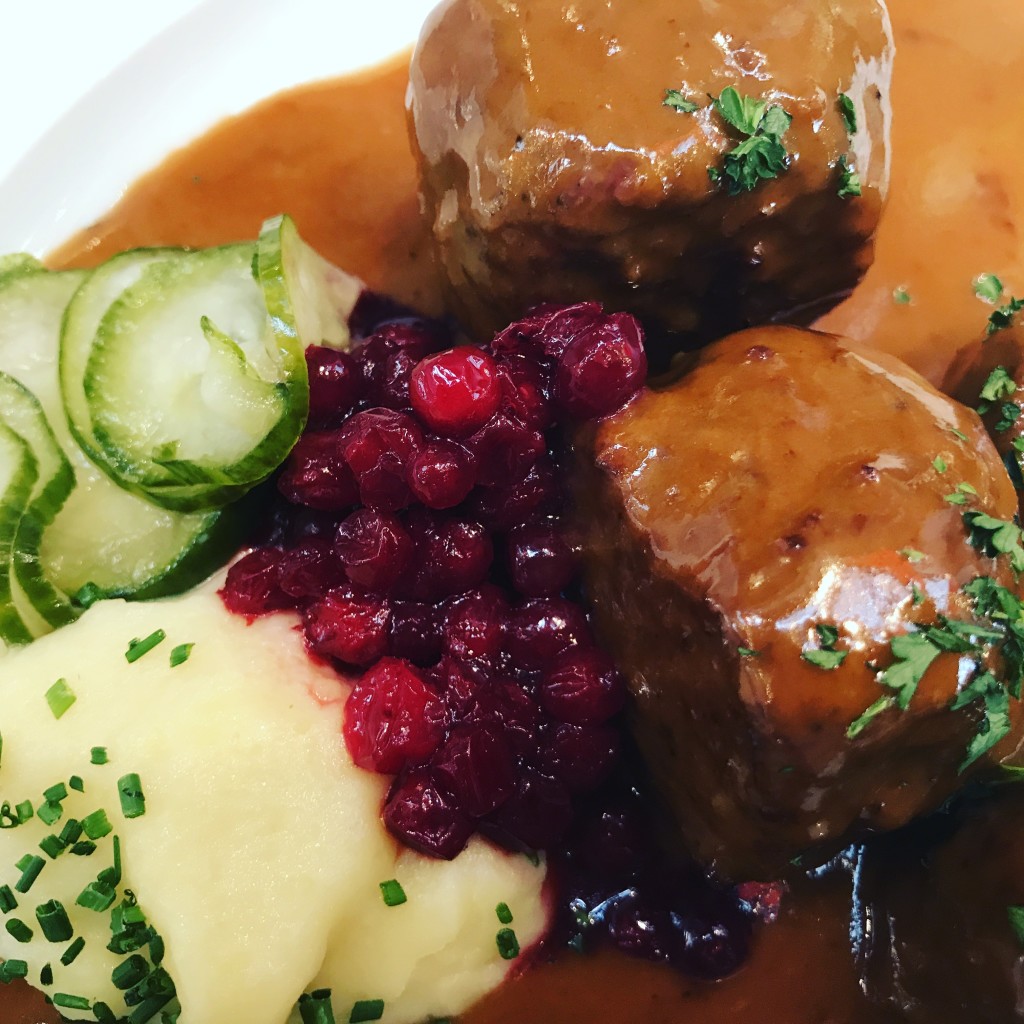 So how do you dress? In layers of course. But I couldn't be in Sweden without getting a hat. Who doesn't want to get a cap from Sweden, made in Arizona, an original Stetson.
With all that food you do have to walk, and enjoy more of the sights of Stockholm.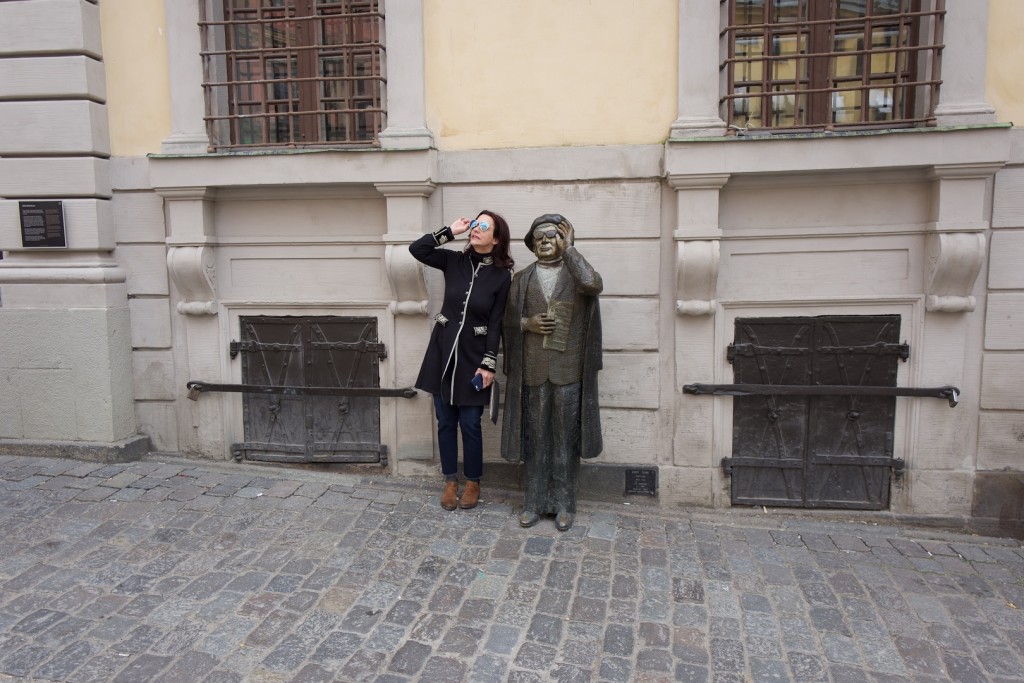 The Haymarket is one of the original markets in Stockholm. You can imagine all the produce, fish, poultry, and cheeses under one roof. Yes food, well, the blog is Eat, Pack, Go – so we have to eat.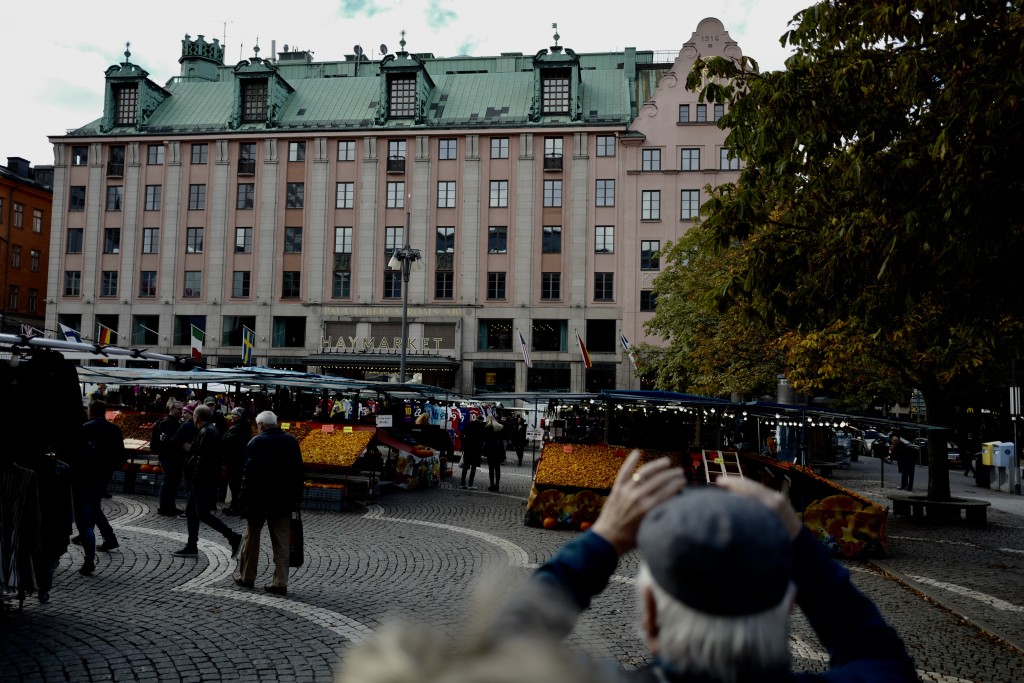 Just when you turn the corner you find St Jakob's church. The church goes back over 700 years, perhaps longer. It has been built and rebuilt on the same grounds over that time.
A quick walk to the museum island you find how Swedes have lived through the years. Many Swedes moved to Stockholm since the Industrial Revolution, getting small apartments with small furniture.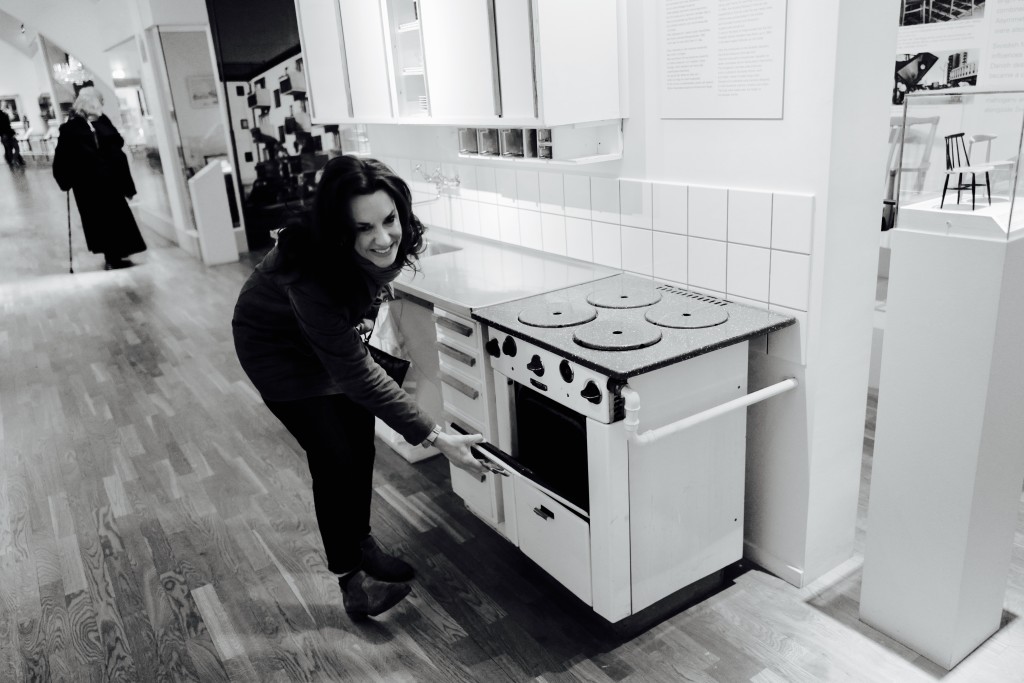 Who doesn't like a shot of a museum?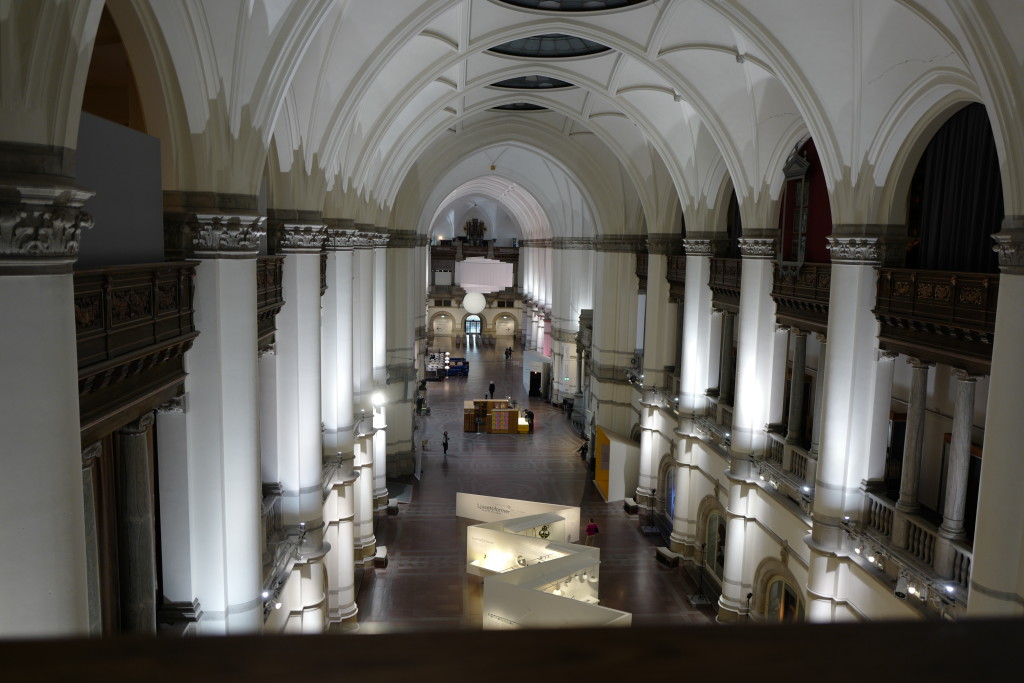 Stockholm is a city of islands, and that means boats!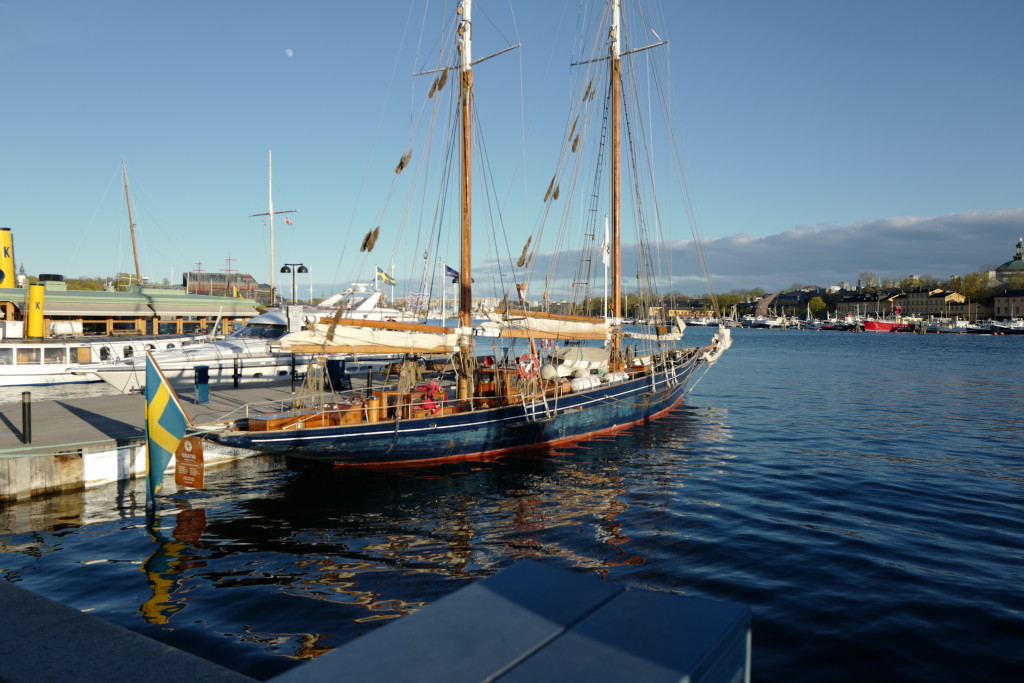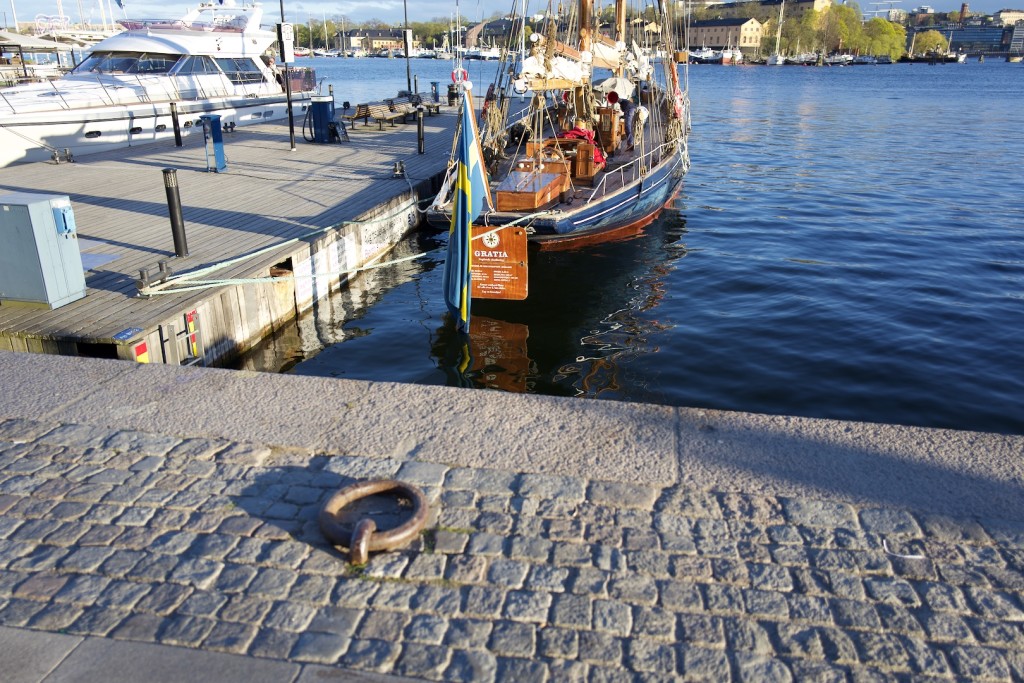 And many waterways, like this one close to the Parliament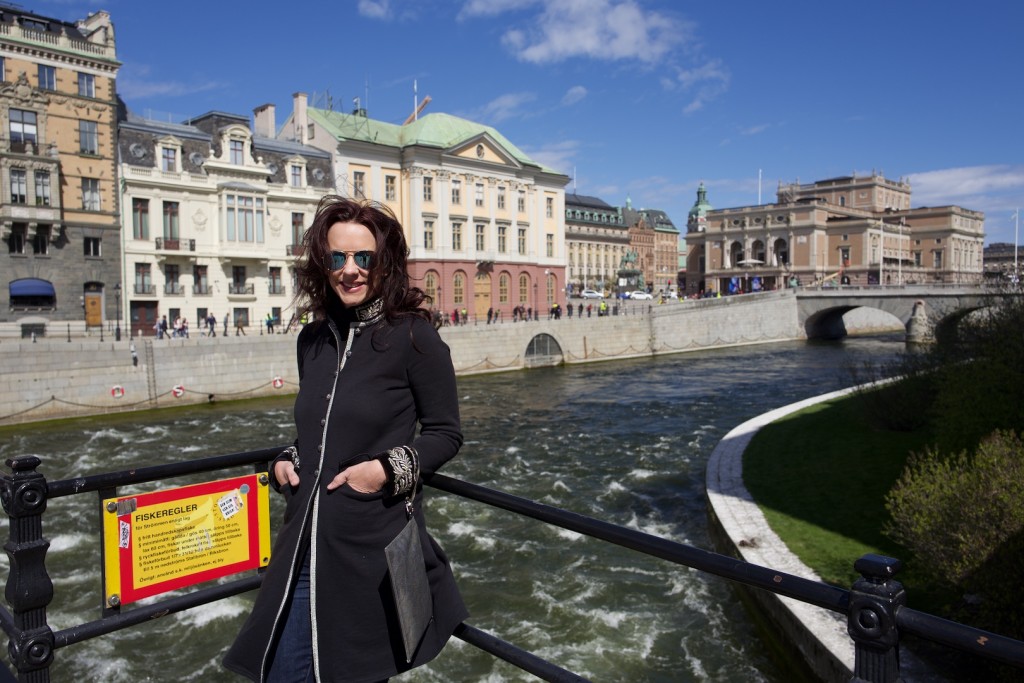 Springtime means my favorite flower – the Daffodil – planted everywhere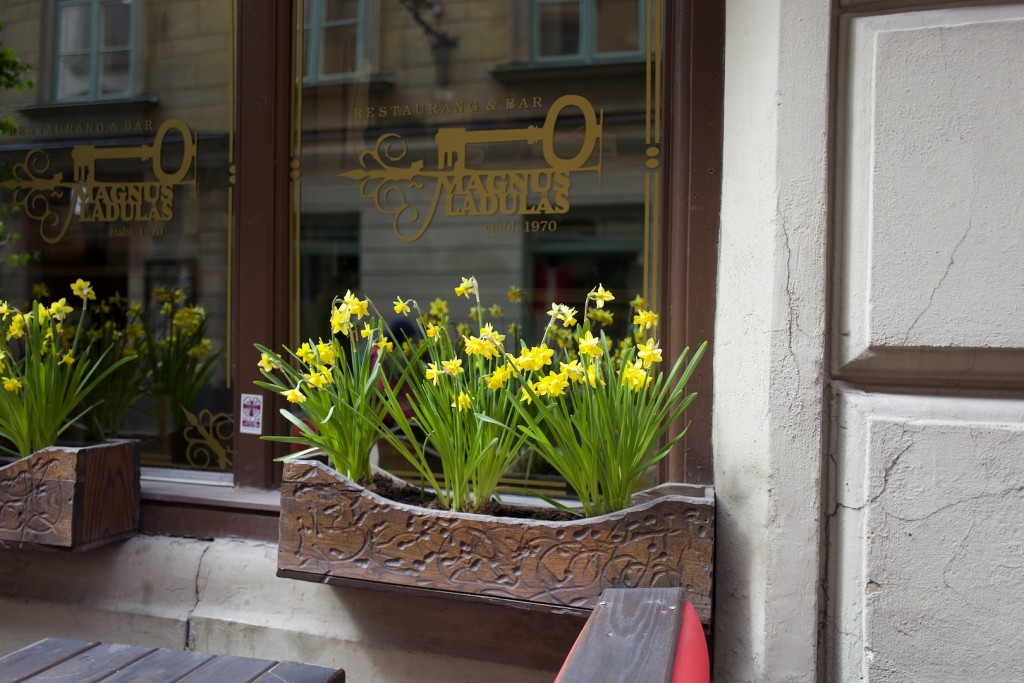 Sometimes we need to just sit down and take a break from all the walking.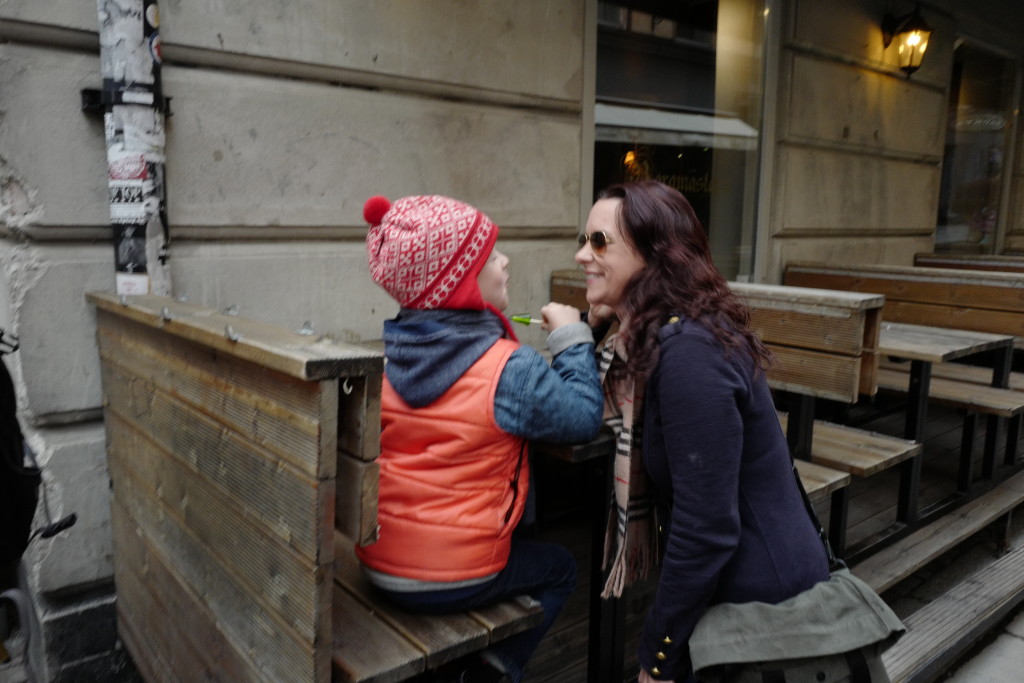 But then you look and what do you see? A candy store? Not just any candy store but Polkakarameller. You will see the very lady who brought candy two Sweden (ok her photo). A lovely story about a widow who made candy for her children, then sold some to friends, and it became so popular that she was able to support her family. So how do you think JJ enjoyed being here?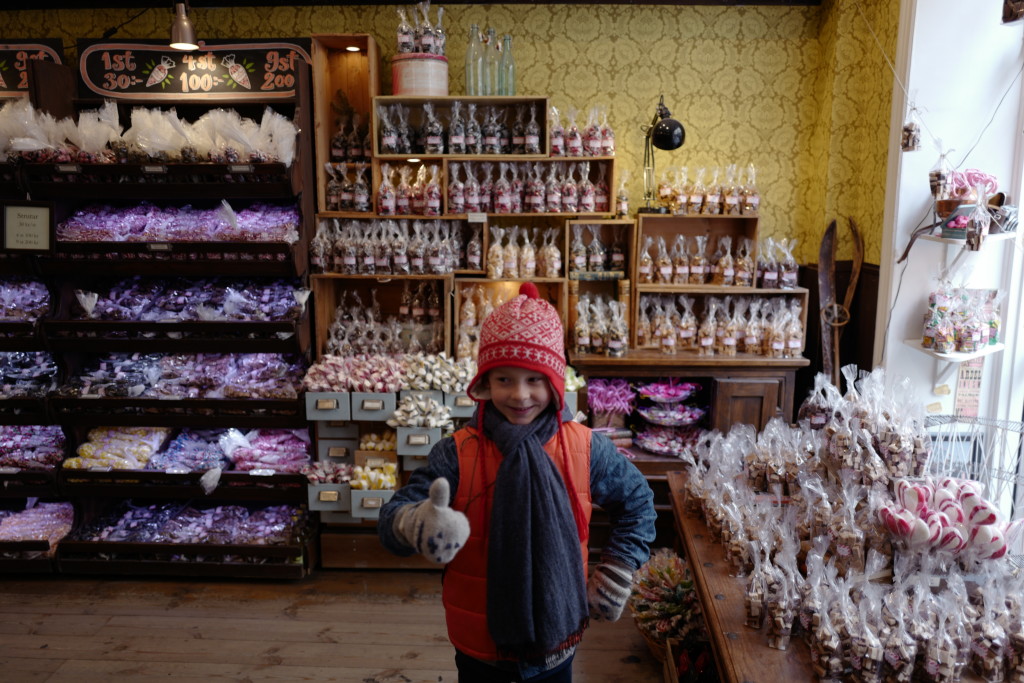 So night comes, and in a city with many great restaurants we picked another Michelin Star, the Carousel, and when I saw that they had Sous Vide lamb with chickpeas- two of my favorite proteins, how could I resist?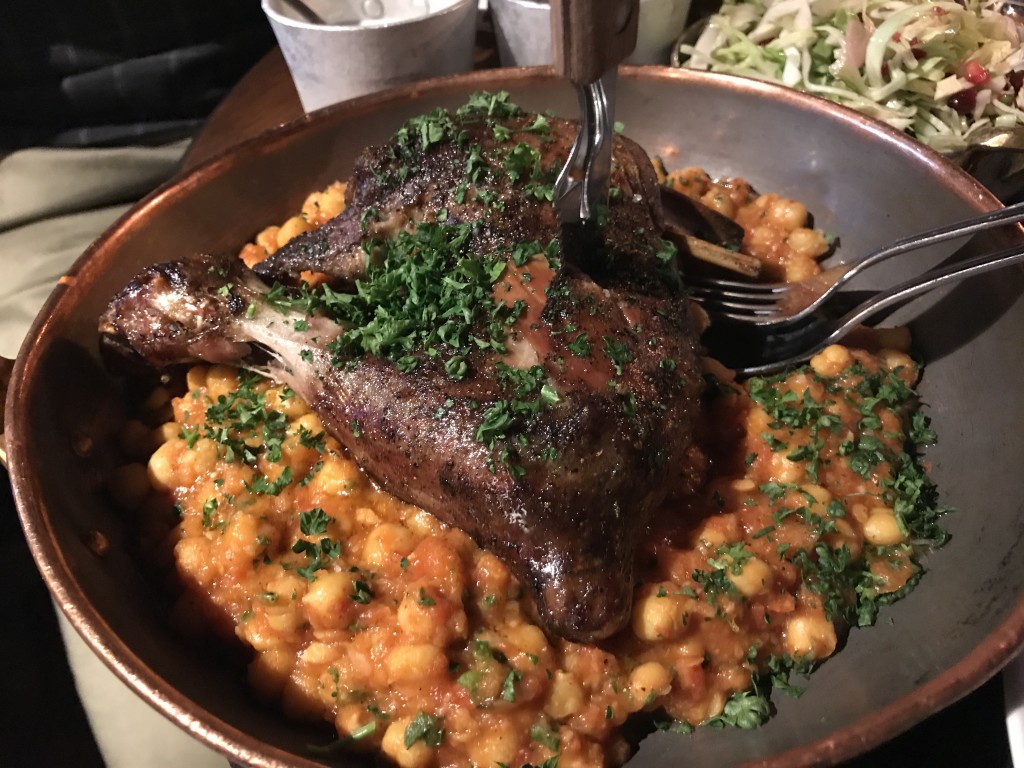 Every trip must come to an end. You can imagine how JJ felt after all that walking.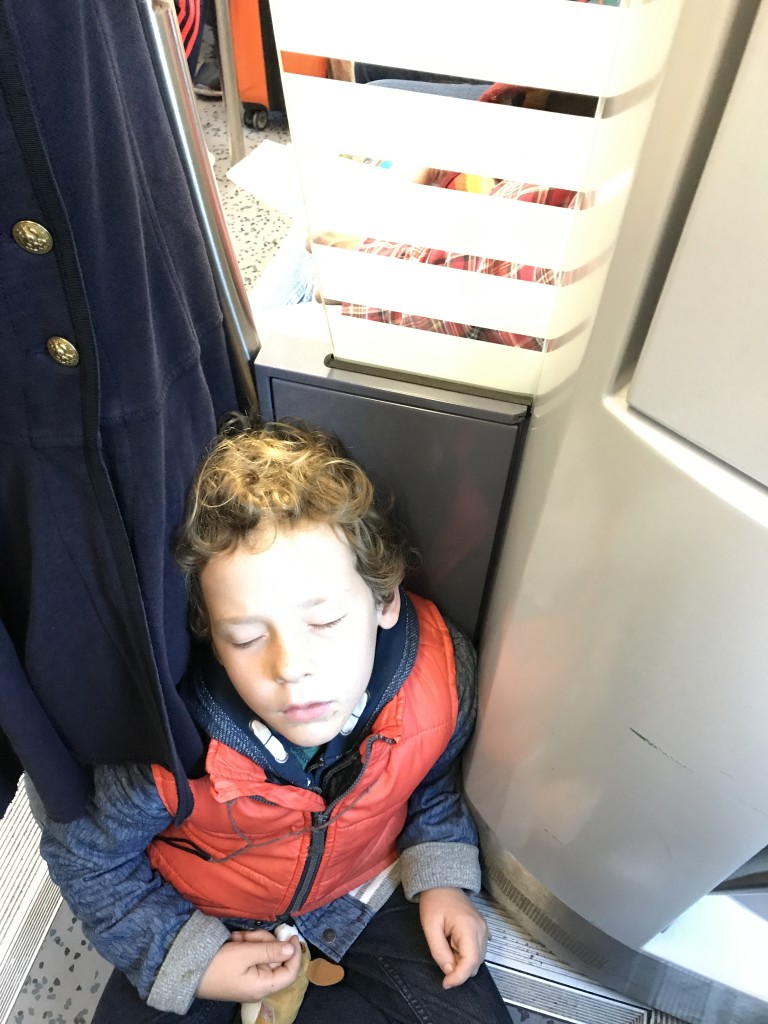 Besides great food, easy walking, what else did we learn about Sweden?
The people are kind, helpful, and speak English quite well.
They spend less than half of what the US spends on healthcare and everyone is covered, no co-pay, no deductible.
How good is their system? When looking at healthcare we look at metrics, such as ability to get to specialists, lifespan, access to cancer care, and infant mortality. Sweden has better healthcare metrics than the United States.
Taxes are higher, but not that much higher than the US – they just get more out of it.
We saw no homeless humans. When you take care of mental health and have a good housing system you have happy people.
When I asked the worst issues they had with immigration (they have brought in over 1 million refugees in a country whose population was 10 million)- the answer was that some of them brought guns from Eastern Europe, and sometimes they would have a shooting a month. One shooting a month. Let that sink in. We have more than that in the city of Phoenix every day.
What can we learn from Sweden? A lot. Until we do, we will be back.
Comments