The movement to fresh and local foods popularized by Chez Panisse – in Berkeley, California where they found great local foods from the local farming communities surrounding the area.  It is not surprising the local trend moved to the Pacific Northwest where they have more farms per capita as well as great vineyards- but who would imagine fresh and local being in Alaska?  I grew up in Southeast Alaska, where local was from the ocean, as well as berries and rhubarb from our backyard.  But Alaska has changed and you can experience fresh and local everyday if you visit Sack's Café in Anchorage, Alaska. And, they love kids there- and JJ enjoyed it!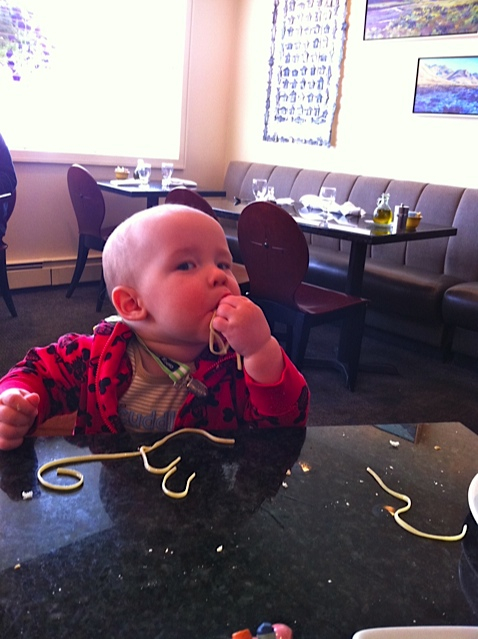 Alaska has abundant local foods. From the sea there is salmon, halibut, king crab, prawns, scallops (some of the finest in the world), as well as cod, mussels, and the occasional squid. But most don't think about the Matanuska Valley, located a short 45 minute drive north, where the fertile lands and the midnight sun grow some of the largest produce in the world (like the 180 pound cabbages).  There is also wild game in Alaska and some domesticated animals (I love reindeer sausage).
Sacks has been a favorite spot of mine for 7 years. Located in downtown Anchorage, Sacks menu features the fresh and local ingredients found in south Central Alaska.
Fresh Alaska Sockeye Salmon Tacos are always a favorite- sometimes you get Halibut Tacos, depending on what is fresh and in season (at the docks). They do a beautiful job with the tacos providing a roasted corn and black bean salsa on a grilled corn tortilla.
Their version of Jambalaya contains fresh halibut, sockeye salmon, prawns, and clams – all local and combined with chorizo, a spicy tomato sauce and jasmine rice.
The restaurant has a great selection of wines featuring unique varietals from the Pacific Northwest- all ready to be paired with your meal. Topping off the dessert is a berry cobbler (when in season).
Sacks is located in downtown Anchorage 328 G Street, close to the major downtown hotels (Captain Cook, Hilton Anchorage, Marriott, and Sheraton). You can get reservations on OpenTable.com or call them directly 907-276-3546.  They are open for lunch M-F, with Saturday and Sunday brunches and dinner 5-9 Sunday through Thursday and 5-10 pm Friday and Saturday.  Their website is sackscafe.com
Comments