When Robert Irvine said "Come on over," to a restaurant that he was working his magic on – its hard to resist. First, because Robert is just too much fun to be around, and when he works on a restaurant, he does more than work on the restaurant – he saves relationships.
In this case the restaurant, Sapori D' Italia  in Fountain Hills, Arizona. No spoilers here- the show will air in January of 2013 and you shouldn't miss it. But, because restaurant reviews are a part of what we do here- I'll make this one short:
If you are in the Phoenix area – this place should be put on your "go to" list.  And if you want a recommendation: well – the calamari was cooked to perfection, and the duck prosciutto is nothing short of amazing.  From the Biltmore/Arcadia  area it took 20 minutes (at evening rush hour) – and well worth the trip.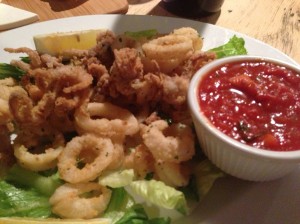 The inside was changed completely, and – as usual the work that Tom Bury and designer Cheryl Torrenueva completed, is bright and cheerful. And done in 48 hours, with $10,000; we witnessed it.
Television has a lot of people who are different when you meet them then when you get to know them.  Robert Irvine is just as you see him. He cares deeply about the people, is passionate about decor, and relentless about service and food.  In two days his most important job was to put this family back together- and he did.  In his private moments he was saying how this was his mission, the family- that while he would make the restaurant the best it could be, the family was the most important thing.
Robert managed to do both in 48 hours. At the restaurant opening he took time for a picture with everyone who wanted it, he spent extra time talking to every child who wanted his time and attention, and smiled at the fans who were over the top, but didn't dismiss one of them. He reminded me of Arnold Palmer, who after a long day on the golf course took time to talk to every fan.Robert's other passion is veterans – those who have served, and when he found out someone was a veteran he would take time to thank them for their service, and if they brought kids or grandchildren make sure they knew that they should appreciate that service.
Robert had an effect on us too- as I was getting my grill ready for guests coming over I found myself thinking "this grill hasn't been used in several months, I need to get it Irvine clean." But more importantly, I kept thinking of this family – who came to Robert with a problem with their restaurant, but left with something more important.
While celebrating and enjoying dinner, Robert would look at his phone – always thinking about his new bride, Gail, always talking about her – the new groom, quite in love and quite missing. And after nine weeks of being on the road and working, he was called by his friend Gary Sinise (another twitter connection) to help with an event in San Diego. Sinese is passionate about helping veterans and first responders – and it is worth checking out his foundation – you can by clicking here. There was no question that Robert was going to go, with just four hours of sleep – on a plane to San Diego to help.
While there Robert's crew got the news that Restaurant Impossible was picked up for another season.  That is a good thing.
If Alton Brown is The Food Network's brain, Robert Irvine is its heart.
Comments