When you are told that "a friend" operates a great restaurant, and you should go there- it is always a bit suspicious- but when the concierge from The Hotel Intercontinental tells you that—listen to him.
It is hard to find a bad meal in Rome- but to find a spectacular meal- the concierge knows where to go. He made a call to his friend, Antonio Camponeschi – and said that a honeymoon couple was coming and could he treat them like family (my Italian is poor, but these words I understood).
Just a few blocks from the Spanish Steps, Antica Trattoria Tritone was first established in 1800 as an Inn. It has grown, with new rooms, and with some of them excavations have found ancient layers of old Rome displayed throughout the restaurant.
We snuck in, were promptly seated- and asked the waiter if the owner was present, he was and he came to our table. I told him we had been sent here by his friend- and he grabbed us and led us to a spectacular table in another room- congratulating us about our marriage. I started to look through the menu with him- and then he took away the menu and said, "let me feed you."
First the wine- he presented us with a 2003 Barolo- which went beautifully with the courses he brought. From the home made ravioli, to the soft shell crabs, the puntarelle romanesche (roman salad), the lamb chops – it was marvelous.
Then he made desert- and not just any desert. Perfectly peeling an orange at the table side, making a candle with the skin and a flambé desert – was one of the most spectacular deserts we've ever had.
In March it is a bit too cold to eat in their outdoor patio- but during the summer it is a perfect place to enjoy the great Rome weather – in a perfect restaurant.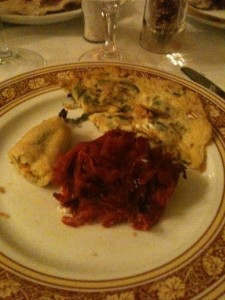 A truly spectacular meal in Rome – a city where it is hard to have a bad meal, common to get a great meal, but when you want a spectacular meal- this is the place to go.
Comments