Do you know who the really smart kids were in college? Were they the science majors, or pre-med majors who got straight A's?  Nope, and sadly that would have been me.  The smartest ones were those who took a semester, or a year in a foreign country, received college credit for it. They got to travel, probably learn a new language, and certainly ate well.
Culinary giant, Thomas Keller was one of the smart ones.  Spending time abroad, he not only learned and ultimately perfected the food they cooked, but got to spend a lot of time hanging out in French Bistros around Lyon. Those French Bistros, where food is simple but delicious – are called Bouchon – and that is the name of his restaurant in Yountville, California. In contrast to The French Laundry, where dining is a multi-course affair, Bouchon is the French brasserie – here you will find a raw oyster bar, steak frites, great chicken, a veal chop, grilled-cheese sandwiches. Here is where you wear your shorts and t-shirt and enjoy a great meal made by one of the finest chefs in America.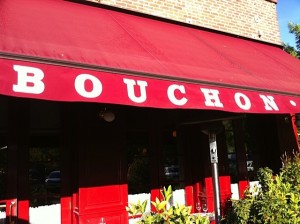 The atmosphere at Bouchon is meant to be casual, noisy, close, and comfortable. The tables are small and crowded; so if you have a party of five or more, get reservations well in advance. There is some limited seating outdoors.  There are a few places at the bar- that tends to overflow as the evening progresses. We made the mistake of not counting our 14-month-old son as a member of the party, so had a small, but not long, wait.
Try anything with the vegetables that are grown in his gardens. Fresh is a moving adjective in food these days. Something picked last week and trucked to a restaurant is not fresh – but is called fresh, sometimes even called "local." Keller has beautiful gardens (see Ad Hoc) where the vegetables are picked that day. There is a difference between shallots from a market – picked whenever, and shallots from his garden. Figs from the local area are so much better than the figs you will find in New York (hard to transport fresh figs, and if picked green they ripen with a much different flavor than those picked fresh and served immediately).
A simple salad is ruined when someone puts oil and vinegar together.  As Keller explains- a salad is meant to first have a bit of salt, then protect the salad from the vinegar with oil, and then the vinegar added.  Starting a salad with fresh ingredients means flavors most of America is not use to having.
Everyone makes chicken as a comfort food, but that does not mean that chicken is easy to make. Keller makes the perfect chicken- a crispy skin and succulent, moist meat – seasoned perfectly, delivered hot.  As with all his ingredients, the chicken is not the frozen kind from the grocery store, rather chickens from a local farm– not getting above four pounds.
True Bistro food, is simple – and there are bistros in every major city. But simple food made great starts with a vision. Great product to start with, fresh, truly local, and then prepared perfectly.
If you have a great palate, and want great bistro food, with the freshest ingredients – then come to Bouchon.
Bouchon is located at 6534 Washington St, Yountville, CA
Hours: Daily 11:30 am-12:30 am
Reservations: Required on weekends, and highly recommended
Phone: 707-944=8037
Credit Cards: American Express, MasterCard, Visa
Handicap and Stroller Accessible
Comments