When you copy something enough times it isn't as good as the original. In this case, the amazing Chef Keller copied his highly successful Bouchon in Napa (see our review) – and the restaurant in Beverly Hills was not the same.
Bouchon is the name of a French Bistro- the kind of food you would eat in a casual place, where you can relax and just enjoy the food. In Napa, Bouchon opened as a place where you could enjoy Chef Keller's food, but not wait for a reservation at French Laundry, and yet enjoy great French Country fair.
On the good side – the dining room is far more spacious than in Napa. While the tables in Napa were crowded, with large pedestals that limited leg room, this restaurant is meant for large crowds.  The tables in Beverly Hills are easy to get to- and are very friendly for kids.
They have a great oyster and fresh fish bar here- where you can sample whatever has been fresh that day, and enjoy it. That is a plus in any restaurant, but when you see that a lobster has been there cooked when you walk in the next day to recheck the restaurant, it makes one pause to think – did they really cook a new lobster and put it in that exact position? I think they probably did—still…
The lamb was tasty as always- prepared perfectly, as one would take from his recipes.  Chef Keller gets his lamb from one supplier – in Pennsylvania – and the lamb is so worth getting.  Still, while the flavor of the lamb was throughout- the Maillard reaction was underdone, leaving little of the fine aromatics one would expect.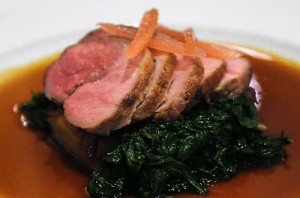 The shaved truffle risotto was delicious but clearly over priced. We understand that food costs are high, and that one needs to recover.  A truffle typically costs $300, and you can shave from it to get 30-50 parts. Thus, about $10 worth of truffle go into the dish, and the risotto is about a dollar or less.  Their charge of $95 is simply price gouging. Not that we are opposed to eating and paying for fine food (clearly)- but this is way over the top.
Steak Frites always a favorite, when combined with a prime flatiron- and if you think you want a steak, do not go to a steak restaurant- come here instead.
The Profiteroles are a disappointment- the pastry was thick, and the ice cream a bit icy. Although it is difficult to beat Tarbell's for the world's best.
A few missteps in the food all around. Not the careful attention to detail – but still, when it comes to dining in Beverly Hills, this is one of the better places.
Bouchon Bistro is located at 235 North Canon Drive, Beverly Hills, CA 90210 – walking distance from Rodeo Drive
Phone 310-271-9910
Valet parking is available for $8
Open Daily from 5:30 pm.  Can make reservations through OpenTable online
Bar Bouchon, with a similar menu open daily from 10 am to 10 pm
Most Credit Cards accepted
Stroller and Handicapped accessible
Comments