Chicago was my home for many years- it was, 25 years ago, the start of my culinary journey- where I enjoyed some of the finest food in the country- and where this kid from Alaska learned to appreciate food from good, to better, to amazing.  The restaurants then are no longer, places like Chez Paul, Le Peroquet, Le Francis, Gordon's, and the recent loss of Charlie Trotter's – all of which a reminder that restaurants, no matter  how great, are here for a season then gone.
This week, three restaurants – all stood out- but all for different reasons, and all places that you should put on your "can't miss" in Chicago. Three restaurants – two you have probably heard of, and TWO- that you haven't but if you are a foodie, this is where you want to go.
TWO 
Walking into TWO you are struck by the warm old wood, combined with industrial chic. The wall panels are old wood from the Illinois area, the barn doors on the wall, the posters, the reconditioned school library chairs, and the butcher block – so lovingly taken care of and reconditioned.  This is a place that combines the old with the new, and when I walked into it all I could utter was, "Cool."
The restaurant comes from a great pedigree – the chefs all amazingly experienced and well trained, looking to do what chefs do- open a restaurant that has a focus on fresh, local, and delicious. So when the menu came, and they told me it was about choices, and the choices were delicious- my mouth watered.
The food was a combination of modern with comfort – probably best seen in the Duck Pasta.
Duck pasta, fresh- al dente, delicious. On top of the dish was the Parmesan cheese, with duck skin cracklings. If you ever had the perfect duck, it is the skin, the cracklings, that make any duck from Beijing to New York delicious. While the fat is rendered to be used for something else. Here, they took a different way- they added the confit below, the noodles having the delicious flavor of the duck fat, but not overwhelmingly so. The Parmesan cheese providing the tart balance one needs with the dish. Balance in flavor and texture – something difficult to do, but they do it well.
The staff were impeccably polite, efficient, and knew their menu well. From greeting to helping get a cab, they gladly shared information about the restaurant without being too talkative or intrusive. The perfect staff for any restaurant – clearly well trained, well appointed, and their joy was watching the customer "get it."
Risotto is the item on every menu that defines a restaurant. It is either made well and accompanied appropriately, or it falls faster than a soufflé. The risotto was cooked perfectly, and the accompanying butternut squash, with bacon, with the house ricotta and sorrel was a perfect blend to allow the risotto to be the vehicle upon which the flavors were built. The ability to cook risotto perfectly is found in about 25% of restaurants, the ability to combine it with flavors that give it balance is only the top 1%.
The pork belly is a personal favorite of mine. With the whipped cauliflower and chives, it allowed the savory belly a bit of brightness and let the cauliflower stand out with the pork drippings.
TWO has several meanings: from the furnishings that have found their second life, to the plates which are meant to be shared by two- and clearly because it takes at least two times to come back – and were I to live in Chicago, this restaurant would become a regular place.
TWO is located across the Chicago River from downtown, a short cab ride from Watertower place – 1132 West Grand (surprisingly the Apple Map had this one correct). Closed on Mondays, otherwise open from 5 pm to 10 pm except Friday nights and Saturday nights when it is open until 11 p.m.  Visa, Mastercard, American Express, and Discover are accepted.
Graham Elliot
If you are a fan of Master Chef (Fox television series) you know Graham Elliot as the "kind"  judge, but also as the youngest winner of a Michelin Star. This last season he had the final few contestants reproduce one of his famous dishes (served to President Obama). The one who perfectly reproduced it was a blind contestant, who ultimately won the Master Chef title. How can a foodie resist a chance to dine at his restaurant? One advantage of having a two year old is you must dine early- and getting a reservation on Sunday night at 5:30 pm proved to be one of a few left last week.
Now imagine being in a restaurant when you have three choices: you can order from the menu, you can order a 10 course tasting menu, or there is a third option.  The option is simply a large question mark. I looked at my dinner companions  – the lovely @producergirl, my guest the famous surgeon from New Jersey, Michael Goldfarb, and it wasn't even a question- we wanted to know what the question was.
What transpired was a 15 course meal that took five hours, and could be described in one word: epic.  When we left the table we were smiling, and wondering if we would ever be able to have a meal again – not from being full, but from being so satisfied. The flavors, the combinations, the precision was amazing.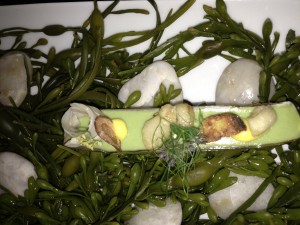 The clam is near and dear to my heart- growing up in Alaska. And Razor clams are a favorite of Alaska Natives – but never had one been presented to me like this: the fennel, champagne sauce, and potato delivered on a bed of seaweed and beach rocks fed my eyes, my mouth, my nose, and made me realize that I had been eating this clam for 55 years and never had it this great.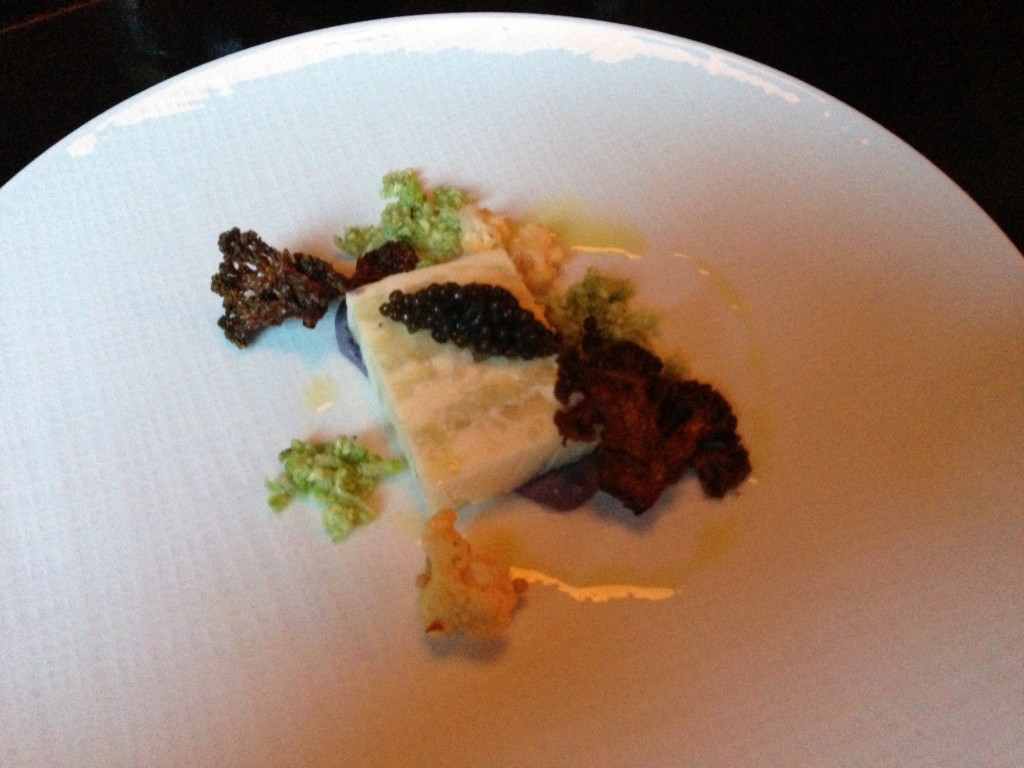 Yes, I enlarged the photo – because the cauliflower is not my favorite vegetable but with this- and the caviar on top, I found a new appreciation for the dish.
It is hard to know what courses you will get when you go there- but do yourself a favor- take the journey, enjoy the ride- and see why he won the star. While he had to leave before we could thank him, he was kind enough to tweet with us that evening @grahamelliot – and I'm sure if you join him for dinner he will happily tweet with you. Social media – its about being social, and Mr. Elliot is, above all things, social.
The restaurant decor itself is, like its owner, modern, sleek- with no detail left unmatched – even the signs into the bathroom were fun.
GINO'S EAST
After a culinary love-fest, what do you eat? Sometimes you just don't feel like eating, or taking your son out for another dinner. Both restaurants were great with our son- he fell asleep at Graham Elliots, and at TWO, he was the hit among the staff (I think he got the telephone number of one waitress).
Turns out my wife had never eaten Chicago deep-dish pizza. Three blocks away was the famous Gino's East, where some 25 years before I had some of my first of Chicago's famous.
It is difficult to imagine that I have been married two years and my wife has never tried the deep dish pizza – and somehow she has forgiven me for it. But thanks to Gino's for delivering it, so we could sit quietly in our room, while our son slept- and enjoyed the simple pleasure of the world's finest pizza in one of the finest cities.
Comments