Did you ever stumble upon a new restaurant, and realize, you just found the next great place? We did in Cabo San Lucas- the H Restaurant, which features American Nouelle and Rustic Contemporary American food.
H Restaurant already has a location in San Jose Del Cabo, but now open in Cabo San Lucas, this restaurant had food that combined the fresh ingredients from the local farms and the ocean.  But it isn't surprising, when you realize the pedigree of the owners. Luis is well known for being a part of the group that opened Senior Frogs.
We arrived to the warm welcome of Luis Herrera Blanc, and if anyone can make you feel at home, it is he. At the suggestion of friends we asked about their private label wine. Too many American wines have gone the route of overly sweet, tasting almost like cough syrup. This wine provided a great balance of fruit with soil – not sweet, not "big" but blended well. The only problem is this is where you can get it, no where else.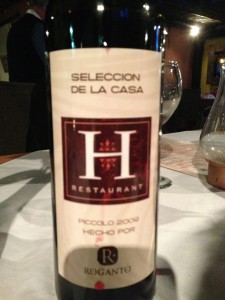 The wine list is extensive, and reasonably priced. While heavy in wines from South America and Europe, there are some favorites from California – and while some consider Cabo to be a part of traditional California, while you are here – you owe it to yourself to try something else. Luis will help you, I doubt there is a better palate for wine in all of Cabo.
His son is the chef,  Luis Herrera Thatcher, a graduate of the New York Culinary Institute of America, was previously the executive chef at Club de Golf Querencia, Club Ninety-Six at Palmilla. His food is well known for using the best of the local markets. A part of this is helping the local farmers, but the selfish reason is chef believes that fresh is "providing honesty in my dishes."
Our 2 and a half year old son was welcomed as much as we were, and loved the pizza – in fact, it was here in Cabo that pizza has become a part of his vocabulary.
For an appetizer we had the pizza, made with an ultra-thin crust – a tortilla, baked in the pizza oven – and we had both the seafood, as well as the mushroom pizza. They were crunchy, the ingredients on them fresh, and mushrooms with a delicious savory bite. Too often pizza tastes more like "snot on toast," to quote Simon Mujumdar – this was crisp with the local flavors infused in every bite. The seafood pizza was remarkable in that the catch was not only fresh – but prepared properly.
Cooking shrimp on a pizza is an art- and they have perfected it.The shrimp is fresh, local, and far more flavorful than any shrimp you will find in the U.S.
While my guests loved the short-ribs, my favorite was the smoked honey-brined pork chop. The honey brine provided a crisp texture for the Maillard reaction of the chop – giving a good balance to the savory moist meat. It was accompanied by a baked potato that had a port glaze, with all the American trimmings: butter, sour cream, and crisp bacon. The pineapple cole-slaw was refreshing and when combined with a bit of corn-on-the-cob , it felt like I was in the United States with much better food!
The restaurant is small, providing an intimate dining experience. Tables are rustic – and it fits in with the area.
H Restaurant
Hours Mon-Sat 11 am  – 10 pm.
Located on Alvaro Obregon and Vicente Gurrero
Phone 624-105-2974.
Reservations accepted.
Most major credit cards accepted.
Comments