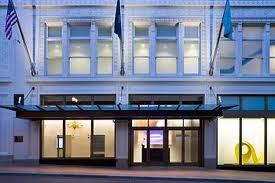 The 9's Hotel in Portland, Oregon is a part of the luxury brand of  hotels offered by Starwood.  Anxious to be in a hotel in downtown Portland, we booked the trip.
The bell staff make you welcome, and escort you to the elevator where you will go to the 8th floor to register. If you look for a rate for this hotel, consider getting a rate that includes parking, otherwise you will be paying an extra $39 dollars a night.
We could not get a one bedroom suite, but they recommended a corner suite, which was spacious at over 500 square feet.  The room looked over the northwest corner of Portland, plenty of light, and we would highly recommend corner rooms. While the room was well decorated and spacious, it lacked in some elemental essentials.
Too few electrical outlets in the room to accompany the two iPads and iphones.  When you have to plug your telephones in the bathroom it means someone was not thinking about the future in electronics. The desk didn't have a convenient outlet for a computer- having to move a desk aside to plug in the outlet below is sad for a hotel that was so recently renovated.
The one side of the bed did not have a nightstand- which meant no place to keep some water, or plug in a phone for easy access, or keep the remote (having to surrender the remote to the wife is painful).
Speaking of the bed, not having the "heavenly bed" that Westin hotels has was a disappointment.  The bed was fine, but I always look forward to a great sleep in those beds.  Also the crib we ordered had no extra blankets that came with it. Nor was the room child-proofed before we arrived.
No robes in the room was, according to the hotel, an oversight, and apparently they offer them. One would think housekeeping would check that prior to a new guest (did they really have them?)
The décor of the hotel speaks of the art-deco age of the Meier and Frank building it was located in.  Sadly, the design of the room was from an era that didn't have a lot of electronics.
The two restaurants in the hotel, Destination and Urban Farmer, were outstanding, and if you find yourself in Portland they would be worth the trip.
There is a price war for hotels in Portland, as with most cities, and the 9's have had low $99 dollar rates. It is worth that price- but when it comes to "luxury" hotels, this would not fit that definition. It is an upscale appearing hotel, but lacking in details that make up the large void between a great hotel and a good one.
For us, the place to stay in Portland is still The Avalon Hotel.
Comments