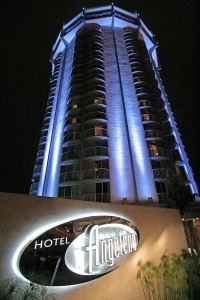 The dream of every travel blogger is to find someplace that no one else has found- a gem, a diamond in the rough. We found it- not only a hotel, but a restaurant in a hotel (yes, that is rare). We will cover the restaurant- West – in another review.
Hotel Angeleno is located near the Getty Museum just off I-405 next to UCLA in Los Angeles. Great neighborhoods of Brentwood and Bel Air just minutes away- the hotel sits unassuming by itself.
Our room on the 15th floor with views of the Pacific Ocean and downtown Los Angeles, was larger than most rooms we have stayed in- and the cost of this suite was minimal compared to rooms one would find at similar hotels just a few miles away.  Looks are deceiving, as the hotel has nothing other than a dated round appearance that made me wonder if we had made a mistake by staying here.
For our son, staying in a hotel that has a suite is imperative– a toddler of 15 months, he loves to run and play. The hotel not only came easily with plenty of room for him, but a nice crib while we stayed.
The suite was outfitted with a dinner table, free wifi, refrigerator, flat screen televisions, clean rooms, and coffee.
An easy 5.5 miles from Beverly Hills and Rodeo Drive- this hotel allows you to stay close but with prices that are 1/3 as much as a hotel with similar room in Beverly Hills.
Clearly the chain "Joie de Vivre" did a great job when they obtained this hotel, because they not only updated the hotel, but they kept the prices affordable for families, and yet amenities are tops.
If you travel on a budget, have a son/daughter at UCLA- this is the hotel you will want to stay in.  Great rooms, great views, great restaurant, great prices.
Comments