Most people know the Beverly Wilshire as the hotel where Pretty Woman was filmed. We know Beverly Wilshire as the place where our son, JJ, was king for the stay.
It is common for the Beverly Wilshire valet to know who you are as you arrive, then they bring you to the front desk, and everyone from the valet, doorman, and registration desk will know your name. What we didn't expect was as soon as our 15 month son came out they said, "This must be JJ." Every valet, every doorman said hi to JJ, and he waived back at them.  When we arrived at the registration desk they brought out the red wagon and he selected a car to play with.
We checked in early, anticipating our room wouldn't be ready- and were looking forward to a relaxing lunch.  Even at lunch as they sat us they had a high chair ready, and the server gave our son another toy. The lobby is beautiful, and JJ enjoyed roaming around- and it seemed everyone knew who he was.
Our room- what can we say about rooms.  Every Four Seasons Hotel room has been great- in this one they put up a tent for JJ, and child proofed the rooms. The décor was elegant, but not over the top. It is preference for décor- I prefer neutral colors, as I want a room I feel comfortable in and relaxed. These rooms are perfect.
My wife and I are on twitter – a bit. Ok- her handle is @producergirl and mine @terrysimpson and of course @EatPackGo. So, when we were greeted with – well see below.  The Wilshire has an active social media presence – as does its sister hotel the Four Seasons Beverly Hills.
While we felt more than welcome – it was clear that JJ was the star. It is  common for the Four Seasons to have things for children, to child proof a room if you request, and often will provide diapers (and in our case a Diaper Genie) as well as toiletry for the baby.  But our son had his own tent – which he shared with me for a bit.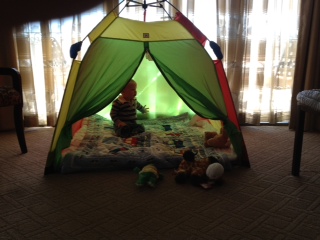 The room was cleaned daily and completely. Going over the room checking in places most would never check, it was clear that the room had been cleaned with more care than most hotels. We did stay in the new tower- but it is difficult to imagine they would clean one tower better than another.
Room service was always a pleasure. Every morning the coffee was delivered with a smile, and timely.  There are two ways to get coffee in a room that are acceptable- one is to have it delivered, the other is to have fresh beans to grind and a drip machine.  The worst way is to have coffee in pre-made packages (the coffee is often too old  and far from fresh). Most great hotels refuse to compromise – and room service with a large pot of coffee is a great option.
Concierge was most helpful, taking pride in finding us the perfect places for our son to have a Halloween party, and great local restaurants. The perfect concierge makes any request seem easy, and goes out of their way to make you feel perfect. The concierge service here took our impossible requests, and made them happen.
The hotel restaurants are a common place to see celebrities who come in to have an undisturbed meal – one would think that our son had just won the academy awards. The food and drinks were a wonderful and relaxing way to spend an evening.
A great hotel takes criticism and consistently improves. I am sorry to say, I don't have a bad thing to say about this hotel. As with all Four Seasons, you have a hotel room that is your home- and they go out of their way to make you feel as if you are family- from the youngest guest to the oldest.
Child friendly—oh yes.
Perfect service – -most certainly
Clean rooms – no doubt
Great location, great rooms, wonderful staff.
Concierge – outstanding
Comments