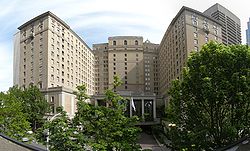 The Olympic Hotel in Seattle has had its ups and downs.  On the high side it was the elegant hotel in Seattle, the place where one would go. When downtown Seattle took its horrid turn for the worst, so did the hotel, and ultimately became the place where a third rate Hollywood movie would be shot with Sylvester Stallone.  It came back from that as downtown came back. Sadly, the Olympic has begun another slide from being number one in service, to resting on laurels that cannot sustain its weight.
The Olympic Hotel held many fond memories for me. It was here, 25 years ago, that I had lunch with the person who was to become my mentor in surgery.  Ten years later, I would stay here again along with a board of directors celebrating a corporation (CIRI) making a billion dollars. When I lived in Seattle, it was there that my parents would stay.
Having stayed here countless times, from their finest suites, to their standard but elegant rooms, this hotel has stood above all others when it comes to service.  At  Christmas time, you could get chestnuts roasting on a fire outside the hotel lobby.
A new era in life- the era of social media, and now the hotel has gone from a Four Seasons to a Fairmont –  but would that make a difference?
We do luxury travel here- people who have disposable income that allows them to stay in nice places, or people who will on a great day spend more for a wonderful experience.  We will pay more for an attitude that provides no issues.
Driving into the familiar circular drive off University there are the same bellmen, waiting to take your luggage with a smile, and glancing a look at the luggage tag so they could call you by name.  Fairmont Hotels has a "Presidents Club" and when you have a reservation the bellmen will have your keys ready for you so you don't need to stop by the registration desk.
The registration desk in this hotel is in one of the grandest lobbies in Seattle. A large room that speaks of an era when space wasn't an issue and making a statement in a lobby was.  Many modern hotels make the lobby an afterthought, with space being premium.  This lobby has seen many beautiful weddings (it is Seattle, outdoor weddings are rare unless your bridal dress is made of plastic).
The person at the end of the twitter handle @FairmontOlympic noted we had a son and asked if we would like to have a crib in our room.  We did, and arriving into our room there was the crib, along with some child toiletries. It is pretty nice making reservations through someone on twitter – points for that.  The room, however was not childproofed. When staying at Four Seasons, if you want the room to be child proofed, you ask, and when you arrive the room is child proofed.  Our room at the Olympic was not.
The Olympic is an older hotel that has undergone many renovations and you never know the size room you will be getting. All rooms are at least two rooms, allowing a reading room and a sleeping area. The last time we stayed here the room was larger, and this was probably the smallest room I've stayed in at The Olympic.  Then I recalled how we were to be upgraded (both because we used American Express Platinum and were told on-line that we would).  Too late for us to worry about changing rooms, we were tired, but noted. They were kind enough, however, to allow us to have a very late checkout- as we will be taking a night flight the next day.
After a long flight we decided to stay in for dinner and this hotel has a wonderful restaurant, The Georgian Room.  Great food, fresh, local-  they have bee hives on the roof- the pork belly (ok, another review for this place).  Checking in on FourSquare they said unlock for a free appetizer.  I don't care about free,  but when I showed it to the waitress she explained they don't honor it, and they don't know anything about it. The staff has had "meetings" about it – and they have contacted Four Square, and no one has control so they won't honor it.
Now- for a $300 meal with wine, a ten dollar appetizer is no a big deal, for me or for them. But to think they would have a meeting about this and not say  simply "we will honor it until we figure  out how to deal with it." Ok- foursquare is a joke, I'm a merchant, I stopped using  it, and lets be honest, four square is a game for people to drive by and be mayor of something. Even Starbucks finally stopped giving a free coffee to its drive-by  mayors, but FourSquare is clearly not responsive to email, and it will quickly join MySpace when something comes along that works and is responsive.  But if I were the merchant here I would honor it until I figured it out.  What would Four Seasons have done? They wouldn't have needed meetings to honor a silly deal, they would have simply honored it.
When Four Seasons found out we were coming to Seattle, after we had made arrangements, they offered the late check out we wanted, as well as an upgraded room per AMEX platinum- and etc.  I would have paid a hundred dollars a night more so I wouldn't have to quibble about a ten dollar appetizer.  Because when I have to quibble about something the hotel doesn't honor,  it lessens my experience at that hotel.  When I know a hotel down the street won't let me quibble, then it is about the experience. When I want a great experience, I want details- and I'll pay more so I don't have to worry.
Guess what? At the Olympic now, you have to worry.  Even worse- when I have to quibble, my wife gets upset, and that can ruin a night, and staying at a hotel like this is not about ruining a night with the wife .
Then there is the towels and the robes. Nothing more comfortable than relaxing in a nice, comfortable robe.  Nothing greater than using towels that are soft to the skin. The robes at The Olympic are a rough cut Terry cloth, the towels are likewise rough. Some people steal hotel robes because they are so comfortable- no one would steal these.
I love my memories at The Olympic, and love the Georgian Room.  I won't be staying here next time in Seattle, and don't recommend you do either. Beautiful place, but I like the "easy" button when it comes to hotels.   The Olympic would rather have meetings with their waiters to avoid giving away a free appetizer than simply honoring it.  The hotel would rather not child proof a room, and they would just avoid the whole promise from AMEX about an upgrade. The difference between The Olympic now and The Olympic when it was a Four Seasons is the Four Seasons philosophy about Service- Service-Service. Changing who runs the hotel changes the attitude.
If you are involved in social media, you will find Four Seasons hotels on twitter almost 24 hours a day.  @FSLosAngeles and @FSSeattle were watching my twitter stream about this experience unfold (along with a few thousand other people). Apparently @FairmontOlympic, like their FourSquare account,  is certain hours only. It is simply about attitude.
Knowing the person in charge of the twitter accounts for the Four Seasons Los Angeles, as well as the Wilshire Hotel – a Four Seasons property, it is the kind of person who loves Four Seasons and believes in the product. Attitude comes from the Top Down.
A hotel, a luxury hotel- is about an experience for a guest.  A great hotel goes out of its way to make you feel welcome, and a part of the family. The Olympic has lost that sense. It isn't far off- but it is a bit.  But we pay for great service, a bit more here and there- and they are off by a bit – but enough that going elsewhere is appealing. For the first time in 25 years, there is a better place to stay in Seattle, in fact a few of them.
You want to stay at a great place in Seattle- stay at the Four Seasons.
The Olympic has risen before, I suspect it will again.
Follow UP
The person who did some tweeting for the hotel gave me her personal email address to address the issues, and the email address of the manager.  I responded in twitter to her, but no response back after that (very corporate and not very service oriented).  My email to the manager noted that my issues were outlined in this blog and that I hoped he would help this Grand Lady (The Olympic's nickname when she was refurbished years ago) rise again.  I have not heard from either other than they were working to adjust my bill for the appetizer.  My response was that it was not about the appetizer – although that is a horrible symptom of an issue.
Follow UP #2
Odd, once this is put in a few minutes later the following email appears:
Dear Mr. Simpson,
Thank you for taking the time to share your experience during your most recent visit to the Fairmont Olympic Hotel. I truly appreciate the time you took to detail your concerns and I wanted to follow-up with you personally.
Please accept my personal apologies for the disappointment and any inconvenience you experienced during your stay and I assure you that this is not the standard to which we aspire nor which our known for.
I will personally follow up on the Four-square incident at The Georgian to ensure this will not happen again. As for the room, in order to receive the AMEX benefits, the reservation has to be done via their reservation center yet your room was upgraded one category as we always attempt to upgrade our Fairmont President Club members. We currently do not child proof a room when there is a request for a crib unless it is specifically requested. I will be more than happy to add a comment in your Fairmont President Club profile to ensure that the room is child proof when there is a crib request.
As you have many fond memories from The Fairmont Olympic and  I truly hope that this one time experience during a very short stay will not preclude you from returning to our hotel in the future.  Please allow us to show you the memorable experience you deserve and if you choose to visit us in the future, please contact my Executive Administrative Assistant, Johanna Cox, at Johanna.cox@fairmont.com to assist with arranging a reservation.
Your past patronage is appreciated and I look forward to the opportunity to welcome you back.
Best wishes,
Guy Bittner
Director of Operations
The Fairmont Olympic Hotel
My answer to him is simply this:  Why is it that some hotels will child-proof a room without asking when you ask for a crib? Perhaps it is that simple level of detail and service that some think about where others have to be reminded of.  Why is it that when there is an issue, as there has been, where a coupon is offered that there are "meetings" about it, and they choose not to honor it — something to sour the dinner because they have a de facto advertisement over social media (yes, FourSquare for all its problems is social media and if you go on FourSquare within blocks of the Georgian Room at The Olympic it will alert you to a free appetizer if you go there) that they wouldn't honor it.  Why would their response be to have meetings and deny the coupon?  Ok, I get that a hotel has a relationship with the Travel of Platinum American Express, and upgrading is something offered if they have room available – and that yes there is the President's Club (which I belong to). No mention of the bathrobes that someone purchased for the hotel that were anything but comfortable.
The answer to all those questions isn't what Mr Bittner offered, with the exception of dealing with FourSquare. The answer is that service is the golden rule, treat guests as you would want to be treated.  To start the story lets be clear – The Olympic went out of their way to get us to stay there for that night. Once they had the reservation we saw or heard from no one until our comments on Twitter were seen the next business day.  We appreciate the late check-out, and the crib. What would get us back to this hotel would be a promise of service to the quality we use to see at The Olympic — as when the management contract was with the Four Seasons.
If you were a hotel manager how would you respond? As a guest, how would you want to be responded to?
When we stayed at the Wilshire- the room was upgraded (truly upgraded – The Olympic thinks their standard room is an upgrade). People knew us on arrival- and so much more.  Here we were handed a room key and nothing until later. Check out how it should be done by reading the Four Seasons Wilshire and Four Seasons Los Angeles reviews here.
Comments