For us, a getaway is exploring a city- finding neighborhoods, but still being in an area where we can enjoy nature. On Cottonwood Bay Park along the Willamette River is The Avalon Hotel and Spa – just a mile south of downtown Portland.
This gives us the best of both worlds- having a bike/jogging trail along the beautiful river, and yet being close enough to downtown that we can shop and explore without difficulty. The bike trails along the Willamette River make it easy to bike into bike friendly Portland, and explore the city and neighborhoods that way. The public transportation system in Portland is amazing, that you probably won't need a car if you enjoy some walks.
The hotel provides several luxuries that are difficult to find these days. Most of the rooms have balconies – and in Portland's temperate climate it is a pleasure to open the balcony and wander (although with our son we are careful).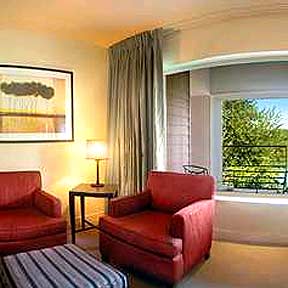 Clearly kid friendly- the hotel provides a crib on request for the children. There is plenty of room to not trip over everything when you have the kids there.
When we arrived after a long overnight flight, and didn't want to go out we were pleased that the restaurant next door provided the meals for room service. The chicken was succulent with a crispy skin (harder to find than one might imagine) and they gave great recommendations for a local Pinot Noir they had in stock (and not on the menu).  In fact, while the room service menu is typical – the restaurant is happy to provide anything from their meal.
It is nice to have a hotel that is in the city, but not really. Where you can relax by walking along the river, or go to a world-class spa.  Close enough to the city that if you want to bike you can, or take a taxi (because parking in the city is not as easy as a cab ride).
We find ourselves in Portland, Oregon a lot these days- and this is our hotel of choice.
Comments